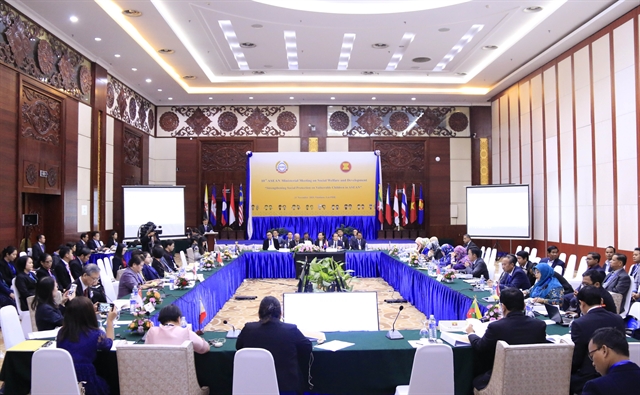 VIENTIANE — Deputy Minister of Labour, Invalid and Social Affairs Lê Văn Thanh led a Vietnamese delegation to attend the 10th ASEAN Ministerial Meeting on Social Welfare and Development (AMMSWD) on strengthening social protection for vulnerable children in ASEAN in Vientiane, Laos on Thursday.
Speaking at the event, Thanh affirmed that along with regional efforts, Việt Nam has been realising its commitments through many policies for disadvantaged children.
The Vietnamese Government is committed to working with other ASEAN member countries and the international community to promote the enforcement of documents that have been adopted by ASEAN leaders towards inclusive development for all children, with no child left behind, he stressed.
He added that Việt Nam has also paid attention to completing legal corridors to ensure the rights, benefits and access of target groups such as the elderly, people with disabilities and children, to basic social services, he added.
The country is working with ASEAN member states to develop an ASEAN declaration on promotion of social work, to be submitted to the ASEAN Summit for approval in 2020, which is expected to be a strategic direction for the development of social work in the region and in each ASEAN member nation in the future, Thanh said.
Participants focused their discussion on strategic priorities in implementing ASEAN's agenda on social welfare and protection for vulnerable children, the elderly and disabled people, while reviewing the implementation of the work plan on social welfare and development in 2016-20, defining prioritised fields and making preparations for building a similar plan for 2021-25.
Ministers and delegates reaffirmed the importance of encouraging stakeholders' engagement and a multi-faceted approach at all levels, as well as taking advantage of common strengths, competitive advantages, priorities and available resources to support the most vulnerable and disadvantaged groups of children.
They agreed on the importance of incorporating measures in addressing challenges in order to promote social security for children, especially vulnerable children, while discussing strategies to improve welfare and social security systems through sustainable finance and strategically planning for mobilising resources.
Participants also praised efforts of ASEAN senior officials in charge of social welfare and development and the ASEAN Secretariat in implementing relevant initiatives.
The ministers and delegates highly appreciated achievements made by the ASEAN Commission on the Promotion and Protection of the Rights of Women and Children (ACWC) in the 2016-20 period, and encouraged the ACWC to continue its efforts to complete the 2021-25 work plan.
The meeting issued a joint statement and reached consensus on contents of the meeting's reports. — VNS
Việt Nam attends ASEAN meeting on social protection for vulnerable children have 655 words, post on vietnamnews.vn at November 22, 2019. This is cached page on Travel News. If you want remove this page, please contact us.