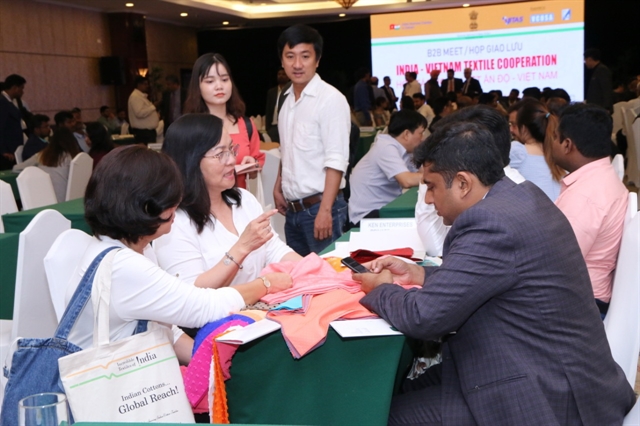 HCM CITY — The garment industry has called for investment in the underdeveloped textile, dyeing and fabric segments to meet the global supply chain demand, according to the Việt Nam Textile and Apparel Association (VITAS).
Speaking at a business interaction event titled India-Việt Nam Textile Co-operation event held in HCM City on Thursday, Vũ Đức Giang, VITAS chairman, invited Indian companies to invest in the yarn, weaving, dyeing, and printing segments to take advantage of the market access provided by free trade agreements that Việt Nam has signed.
He expressed hope that co-operation between India and Việt Nam would benefit both countries.
K Srikar Reddy, the Indian consul general in the city, said: "Bilateral trade in textiles between India and Việt Nam has registered impressive growth during the last two years. Indian textile and clothing exports to Việt Nam grew 48 per cent during the last two years from US$390 million in the 2016-17 fiscal year to $578 million in the 2018-19 fiscal year.
"However, there is significant untapped potential for trade in the area of textiles between our countries."
Việt Nam is dependent on other countries for raw materials for garments such as cotton, yarn, made-ups, and fabrics and it is looking to diversify its sources.
According to Kalavathi Rao, executive of the Synthetic and Rayon Textiles Export Promotion Council of India, India is the sixth largest producer of man-made fibre textile (MMFT) and exported more than $6 billion worth of MMFT products to more than 150 countries in 2018-19.
Its exports to Việt Nam were worth $103.7 million, she said.
India's share of Việt Nam's MMFT imports was 3.34 per cent, she said.
Dr Siddhartha Rajagopal, executive director of the Cotton Textiles Export Promotion Council of India, said in 2018, while Việt Nam's total textile imports were worth $27.90 billion, its imports from India were valued at $640 million, or only 2.29 per cent.
India's imports were worth $7.31 billion and imports from Việt Nam were worth $300 million, he said.
Reddy said under the India-ASEAN FTA most types of yarns, woven and knit fabrics could be imported duty-free from India.
"India can become a reliable partner of Việt Nam in supplying yarn, fabrics, and machinery at competitive prices."
Rajagopal invited Vietnamese companies to participate in the IND-TEXPO (Reverse Buyer Seller meet) to be organised by TEXPROCIL from March 17 to 29 next year in Coimbatore.
Visitors from 40 countries were expected to participate in the event for sourcing varieties of yarns, fabrics, made-ups, home textiles, and technical textiles from India, he said.
Approved buyers from Việt Nam would be eligible for full hospitality, including complementary return airfare, accommodation and local transport, he added.
Organised by the Indian consulate, VITAS, the Việt Nam Cotton and Spinning Association, and HCM City Textile and Garment -Embroidery Association, the event attracted 60 Indian companies who also participated in the 19th Việt Nam International Textile and Garment Industry Exhibition in HCM City from November 20 to 23 besides local firms. — VNS
Việt Nam, India enhance closer co-operation in textile sector have 695 words, post on vietnamnews.vn at November 22, 2019. This is cached page on Travel News. If you want remove this page, please contact us.