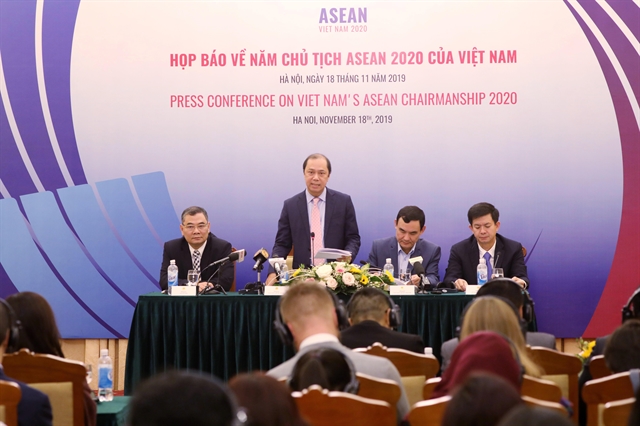 HÀ NỘI — Việt Nam was ready to take over the ASEAN Chairmanship in 2020 with 300 meetings and activities scheduled to be held in the country next year, said Deputy Minister of Foreign Affairs Nguyễn Quốc Dũng.
The most important will be summits in April and November and the 41st General Assembly of the ASEAN Inter-Parliamentary Assembly (AIPA) in August.
Việt Nam will also host the ASEAN Foreign Ministers' Meeting and ministerial meetings.
Dũng said the ASEAN Foreign Ministers' Retreat in the central city of Nha Trang in January would kick off Việt Nam's ASEAN Chairmanship.
Speaking at an international press conference on Việt Nam's ASEAN Chairmanship on Monday, Dũng, who is Secretary General of the National ASEAN 2020 Committee, said 2020 had a significant meaning to both ASEAN and Việt Nam. It marked the mid-term review of the ASEAN Community's Master Plan 2015-25, while Việt Nam would celebrate its 25th anniversary as a member of the bloc.
Highlighting that Việt Nam's Chairmanship was a major responsibility that could provide many opportunities for Việt Nam, he said: "Việt Nam will spare no efforts to successfully act as ASEAN Chairman 2020, making contributions to building a cohesive and consolidated ASEAN Community."
He said Việt Nam had selected the theme "Cohesive and Responsive" for ASEAN 2020. The two elements were interdependent and complimentary to each other, he added.
Việt Nam's Chairmanship 2020 will put focus on upholding ASEAN's responsibilities and positive roles in maintaining regional peace, security and stability on the basis of strengthening the bloc's solidarity and unity.
Việt Nam will promote regional connections and enhance the region's ability to adapt to and take advantage of the Fourth Industrial Revolution, deepening economic ties and comprehensive connections within the bloc and with other partners.
The other priorities of Việt Nam's Chairmanship 2020 are to promote ASEAN awareness and identities; strengthening partnerships for peace and sustainable growth with countries around the world to uphold ASEAN's role and contributions to the global community.
The ASEAN Chairmanship 2020 would aim at enhancing the ability to adapt and the effective operation of the ASEAN apparatus, Dũng said.
Việt Nam had been preparing for the role since the establishment in December last year of the National ASEAN 2020 Committee led by Deputy Prime Minister and Minister of Foreign Affairs Phạm Bình Minh, he said.
Responding to a question regarding the challenges Việt Nam would face taking over two roles at the same time next year – being the ASEAN Chairman and a non-permanent member of the UN Security Council, Dũng said the roles complemented each other. As ASEAN Chairman, Việt Nam represented ASEAN at the UN and also acted as a bridge between ASEAN and the UN to carry out ASEAN plans in synchronisation with UN goals.
"We have to focus on the diversified viewpoints of many groups as well as protect ASEAN's interests. Việt Nam will have to collaborate with ASEAN members the UN Security Council to ensure balance, and pay due attention to the interests of different sides in accordance with global trends.
"These are heavy responsibilities and Việt Nam will try its best to accomplish them," he told reporters.
At the press briefing, Deputy Minister of Culture, Sports and Tourism Lê Quang Tùng said the ministry had plans to promote the image of the Vietnamese land and people in 2020.
There would be art performances to celebrate ASEAN 2020 summits, the ASEAN film week and exhibitions and sporting events, he said. — VNS
Việt Nam ready for ASEAN Chairmanship 2020 have 814 words, post on vietnamnews.vn at November 19, 2019. This is cached page on Travel News. If you want remove this page, please contact us.