Prime Minister to attend ASEAN leaders' meeting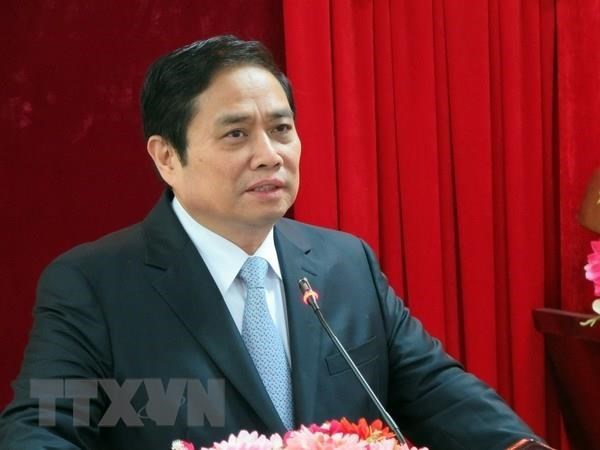 Prime Minister Pham Minh Chinh
Prime Minister Pham Minh Chinh will lead a high-ranking Vietnamese delegation to an ASEAN leaders' meeting to be held at the headquarters of the ASEAN Secretariat in Jakarta, Indonesia from April 23-24.
The attendance will be made at the invitation of Sultan Hassanal Bolkiah of Brunei, which serves as the current ASEAN Chair, according to the Ministry of Foreign Affairs./.
HCMC contact tracers search for people linked to illegal immigrants
Contact tracers in HCMC last night, April 21, were on the lookout for people who were in close contact with three Vietnamese citizens who entered Vietnam illegally from Cambodia, then traveled to Thai Nguyen and Bac Ninh provinces, said the HCMC Center for Disease Control and Prevention (HCDC).
The group, comprising one man and two women, are self-employed workers in Cambodia. They returned home through a border crossing near a border gate in Tay Ninh Province at 1 a.m. on the day.
They then moved to the province's Tan Bien Town and hired a taxi to go to HCMC. At around 4 a.m. on the day, the taxi took three of them to a hostel near Tan Son Nhat International Airport in HCMC.
After learning that the three entered the country illegally, the taxi driver returned to Tan Bien Town to make a health declaration.
The illegal immigrants then took a taxi to the airport, boarded Flight VJ134 that landed at Noi Bai International Airport in Hanoi at 9:10 a.m. on the day.
The two women took a taxi to return home to Thai Nguyen Province's Dinh Hoa District and were taken to a quarantine center at 2 p.m., while the authorities discovered the man in Bac Ninh Province's Que Vo District last night.
HCMC's competent forces are inspecting places linked to the three persons. Their Covid-19 test results were unavailable.
Amid the complicated developments of the pandemic, HCDC asked local residents to stay fully alert to people entering illegally and report such cases to the authorities. Local residents whose relatives live abroad should advise them to return home lawfully to avoid causing a coronavirus transmission risk to the family and the community.
Trial of ex-minister of industry and trade, accomplices reopens
The People's Court of Hanoi on April 22 resumed a trial for ex-minister of industry and trade Vu Huy Hoang who involves in the cases of "violating regulations on the management and use of State assets, causing losses and wastefulness," and "violating regulations on land management" that occurred in the Ministry of Industry and Trade (MoIT) and Ho Chi Minh City.
Being brought to the court were also former director of the MoIT's Light Industry Department Phan Chi Dung; former Vice Chairman of the HCM City People's Committee Nguyen Huu Tin; former deputy director of the HCM City Department of Planning and Investment Lam Nguyen Khoi; former director of the HCM City Department of Natural Resources and Environment Dao Anh Kiet; and former deputy chief of the secretariat of the HCM City People's Committee Le Van Thanh.
Former head of the HCM City Department of Planning and Investment's Infrastructure Development Division Le Quang Minh; former head of the Urban Division at the HCM City People's Committee Office Nguyen Thanh Chuong; former head of the Land Management Division of the HCM City Department of Natural Resources and Environment Truong Van Ut, and former official at the HCM City Department of Natural Resources and Environment's Land Management Division Nguyen Lan Chau.
Hoang, born in 1953, and Phan Chi Dung, born in 1957, were charged of "violating regulations on the management and use of State assets, causing losses and wastefulness" under Clause 3, Article 219 of the 2015 Penal Code.
The eight other defendants were accused of "violating regulations on land management" under Item b, Clause 3, Article 229 of the 2015 Penal Code.
Due to poor health, Hoang asked for seat and medical support throughout the court.
Under the indictment by the Supreme People's Procuracy, the Saigon Beer – Alcohol – Beverage JSC (Sabeco), which is under the MoIT's management, was given more than 6,000 sq.m at 2-4-6 Hai Ba Trung Street, Ben Nghe ward, District 1 of HCM City for production and business purposes.
However, Hoang and Dung directed subordinates at the ministry and Sabeco to carry out procedures for using land use rights and Sabeco's money as capital contributions to set up Sabeco Pearl, a joint venture between the firm and a number of private enterprises, to implement a project building a hotel, a trade and convention centre, and office space for lease on the land.
After Sabeco completed legal procedures for the joint venture's investment and proposed the HCM City People's Committee approve the addition of officetel and housing functions to this project, the MoIT ordered the company to transfer all of Sabeco's stake in this project to the private enterprises in the joint venture.
This was illegal and resulted in a loss of over 2.7 trillion VND (112.5 million USD) to the State, according to the indictment.
The indictment defined that the majority of the defendants holds high positions in the MoIT and HCM City People's Committee, with high professional qualification and deep understanding of their areas. However, with different motivation, they committed serious law violations in a long period, deliberately triggering regulations on State property management as well as land management, causing great losses to the State.
The first-instance trial was first held on January 7. However, it was delayed due to the absence of three defendants and many other people whose rights and obligations are associated with the case. The trial was held again on January 18 but suspended again for the same reason.
The trial is scheduled to take place in one week./.
Transport Ministry orders handling of severe congestion at TSN airport
The Ministry of Transport on April 20 sent an urgent dispatch to the Civil Aviation Authority of Vietnam (CAAV), the Airports Corporation of Vietnam (ACV) and local airlines, asking them to quickly address the severe congestion at the domestic terminal of the Tan Son Nhat International Airport in HCMC.
CAAV was tasked with reviewing and adjusting the number of take-off and landing slots at the airport to handle the ongoing overflow of passengers.
The ministry also assigned ACV to adopt suitable solutions at the airport, including stationing enough staff, arranging appropriate pickup and drop-off sites and flexibly using screening equipment.
Besides, ACV was told to provide information about flights at the airport so that passengers can proactively arrange for their flights, the local media reported.
The ministry also asked ACV to work with the relevant agencies and units to help passengers with information on flights and procedure processes and ask them to follow regulations on security at the airport and Covid-19 infection prevention and control.
Meanwhile, the local air carriers were asked to reschedule flights and the departure time to ensure the flights match the allocated slots at the Tan Son Nhat International Airport; stop selling more tickets than the seating capacity and not to cancel or merge flights for subjective reasons.
Airlines must assume primary responsibility for storing passengers' personal information, including phone numbers and addresses, to serve contact tracing and Covid-19 work, said the Ministry of Transport.
As for a long-term solution, the ministry asked ACV to speed up procedures to develop the T3 terminal and aprons.
From April 15 to 19, the Tan Son Nhat International Airport faced an overflow of passengers at the security screening area as many of them failed to file the electronic medical declaration form.
41 illegal entrants detected in Cao Bang province
Border guards in the northern border province of Cao Bang arrested 41 people who had illegally entered Vietnam over the past days.
The provincial Border Guard Command said on April 20 that the groups of people were found trying to enter Vietnam illegally by soldiers and officers from the Ngoc Con Border Guard Station in Trung Khanh district on April 18, 19 and 20.
Of the illegal entrants, eight are foreigners.
The unit has completed necessary procedures and coordinated with relevant agencies to send the illegal Vietnamese entrants to COVID-19 quarantine establishments in Trung Khanh.
It is also finalising procedures for administrative punishment on the foreigners in line with legal regulations./.
Quang Ninh ready to welcome tourists again
Aiming to maintain double-digit growth amid the "new normal", Quang Ninh province's tourism sector has adopted plans to recover all tourism activities with a series of large-scale events, especially during the Reunification Day and May Day holiday.
Among a series of ongoing and upcoming events to mark the start of the 2021 tourism season, the northern province of Quang Ninh is focusing on large-scale activities, such as a music night gathering together top Vietnamese singers, the inauguration ceremony for Hon Gai Beach, a carnival, and a fireworks display.
With the aim of stimulating tourism, the local sector is joining hands with local people to build an image of Quang Ninh as a friendly and hospitable destination.
According to Pham Ngoc Thuy, Director of the Quang Ninh Department of Tourism, organising a range of events is a new innovation and are a highlight for the local tourism sector.
In parallel with boosting tourism, Quang Ninh province also aims to ensure absolute safety for tourists in the context of Covid-19 outbreaks being possible at any time./.
Six new imported COVID-19 cases documented on April 22 morning
Vietnam confirmed six new imported COVID-19 cases in the past 12 hours to 6:00 am on April 22, bringing the nation's tally to 2,812, according to the Ministry of Health.
Patients 2807, 2808, 2809 and 2810 are all Vietnamese nationals, who landed on April 20 at Van Don International Airport in the northern province of Quang Ninh from Japan and were quarantined at Thai Binh General Hospital in in Thai Binh province.
Meanwhile, Patients 2811 and 2812 are Indian experts who transited in Dubai in the UAE before arriving at Hanoi's Noi Bai International Airport. They were quarantined in Yen Bai province on April 18, and tested positive for the novel coronavirus SARS-CoV-2 on April 21. They are receiving treatment at National Hospital of Tropical Diseases in Dong Anh district, Hanoi.
According to report from the ministry's Medical Examination and Treatment Department, a total of 2,490 COVID-19 patients in the nation have been given the all clear. The death toll remains at 35.
Among those under treatment, 12 have tested negative for the virus once, 11 twice and 17 thrice.
As many as 39,191 people are being quarantined nationwide, including 518 at hospitals, 23,688 at concentrated facilities, and 14,985 at home.
The ministry said that a total of 108,897 frontline workers nationwide received COVID-19 vaccine shots as of 4pm on April 21.
In a bid to live safely with the pandemic, people should strictly follow the Ministry of Health's 5K message: khau trang (facemask), khu khuan (disinfection), khoang cach (distance), khong tu tap (no gathering) and khai bao y te (health declaration)./.
National, Asia-Pacific quality awards to be presented this weekend
Winners of the National Quality Awards and the Global Performance Excellence Awards (GPEA) 2019-2020 will be honoured at a ceremony in Hanoi on April 25.
The ceremony will be broadcast live by Vietnam Television and Voice of Vietnam (VOV), a press conference held by the Ministry of Science and Technology on April 20 heard.
The awards aim to honour businesses that have made outstanding achievements in improving the quality of products and services, competitiveness, operational efficiency, and regional and international economic integration.
In his remarks, Deputy Minister of Science and Technology Le Xuan Dinh said that despite the challenges and difficulties during 2020, many enterprises still showed successful operations, especially in terms of quality and productivity improvements.
He expressed his hope that Vietnam's business community will grow even stronger in the time ahead.
The National Quality Awards were approved by the Prime Minister and are included in the GPEA. The PM signed decisions presenting the awards to 61 companies in 2019 and 55 last year.
Over the past 25 years, more than 2,000 enterprises have won these awards, including 240 receiving the golden prize. Of note, 50 were also honoured with a GPEA.
The GPEA programme is administered by the Asia-Pacific Quality Organisation (APQO), which is a non-profit organisation bringing together all of the leading quality societies in the Asia Pacific region.
To be eligible for the prestigious award, businesses must earn a national quality award for two years preceding the year of application and be recommended by the national awards body./.
NA Chairman receives more congratulations from foreign leaders
Parliamentary leaders of foreign countries continued to cable letters of congratulations to National Assembly (NA) Chairman Vuong Dinh Hue on his election as the top leader of the Vietnamese legislature.
NA Chairman Hue received congratulations from Speaker of the New Zealand House of Representatives Travor Mallard, Speaker of the Parliament of Finland Anu Vehvilainen, Turkey's Parliament Speaker Mustafa Şentop, and Kuroiwa Yuji, Governor of Kanagawa prefecture of Japan./.
HCM City to build VND9.9trn Can Gio Bridge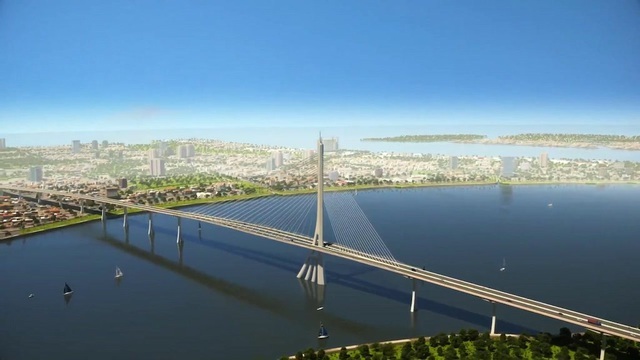 Can Gio Bridge Model
HCM City will invest nearly VND9.9trn (USD427m) in building Can Gio Bridge which would connect Nha Be and Can Gio districts.
HCM City People's Committee has approved a list of 46 key traffic transport construction projects in 2021. The projects were proposed by the Department of Transport.
Can Gio Bridge would be 3.4km long with four lanes built under a public-private-partnership agreement. It would replace Binh Khanh Ferry when completed. Construction will be carried out from 2021 to 2026.
HCM City authorities proposed construction of the bridge with investment of VND5.3trn a few years ago and the project was included in the HCM City Transport Development Planning in September 2017. In April 2019, the city Department of Planning and Architecture selected the design created by Kidohu Green Construction Investment JSC.
The cable-stayed bridge would be supported by a pillar that has the shape of a mangrove tree and the bridge railing will have the shape of waves. The lighting system at night will make it look like a mangrove forest.
The bridge will connect the southern part of HCM City with Can Gio District, potentially helping boost the transport and marine tourism sectors in Can Gio.
Bach Long Vi – frontline island in the north
Bach Long Vi – a frontline island in the northern port city of Hai Phong, is a large fishing field in the Bac Bo (Tonkin) Gulf, with a special strategic location and security-defence significance in safeguarding national sea and island sovereignty and developing the maritime economy.
In April, Bach Long Vi is decorated colourfully with flowers and flags ahead of the upcoming elections of deputies to the 15th National Assembly and all-level People's Councils for the 2021-2026 tenure, which is slated for May 23.
Bach Long Vi, which means the dragon's tail, is a small island located at about 110km from Hai Phong city. Its population was 624, according to 2019 statistics.
It is one of the two island districts of Hai Phong, which was founded in 1992. It takes 5-6 hours to travel by boat from the mainland to the mostly untouched island.
Bach Long Vi has been defined as a future fishery logistics and rescue centre in the northern region. It has accessed fresh water and power supply.
However, the island has faced numerous difficulties, especially in travelling to the island. A passenger vessel called "red flamboyant flower" – the typical flower of Hai Phong – has been built to carry people and goods to the island.
Reporter Le Nhung from the Hai Phong Radio and Television, who visited the island in mid-April, said that she is strongly impressed by the hospitality of soldiers and islanders on Bach Long Vi.
The silent sacrifice by the soldiers who are safeguarding the fatherland's sea and island sovereignty, and the strong spirit of overcoming tough conditions on the island greatly inspired her.
Vice Standing Chairman of the Hai Phong Journalists' Association Nguyen Anh Tu said that islanders considered the Lunar New Year editions of media agencies and newspapers across the country and goods sent to the island as priceless gifts that enriched their social life./.
Ha Nam prepares well for general elections
The northern province of Ha Nam has completed a third consultative conference to finalise a list of eight eligible candidates to the 15th National Assembly and 84 to the provincial People's Council for the 2021-2026 tenure, according to Chairman of the provincial People's Committee Truong Quoc Huy.
Also head of the provincial Election Committee, Huy said a list of 329 candidates for People's Councils at the district level and 4,523 at the communal level have also been completed.
Ha Nam has so far set up two committees for the election of deputies to the 15th National Assembly and 12 others for the election of members to the provincial People's Council, 43 at the district level, and 696 at the communal level.
The province has 655 polling stations at cultural houses in hamlets and villages, along with those at schools, village communal houses, communal medical stations, agencies, and houses of some local residents.
Preparations for the elections have seen good progress in line with regulations, Huy said.
Ha Nam is home to 651,093 voters.
At a working session on April 20 with the provincial Election Committee, National Assembly Vice Chairman Nguyen Khac Dinh, who led an inspection group from the NA Standing Committee and the National Election Council (NEC), lauded Ha Nam's performance in preparing for the elections, which are slated for May 23.
He asked the province to continue its efforts, focusing on dealing with denunciations and complaints related to election activities and holding meetings with voters.
Earlier, the working group inspected election preparations in Thanh Son commune, Kim Bang district, and Tien Tan commune in Phu Ly district./.
Vietnam attends 35th Meeting of ICAPP Standing Committee
A Vietnamese delegation led by Nguyen Thi Hoang Van, deputy head of the Party Central Committee's Commission for External Relations, attended the 35th meeting of the Standing Committee of the International Conference of Asian Political Parties (ICAPP), held online on April 21.
In her remarks, Van lauded efforts of the ICAPP Secretariat in maintaining the operation of the organisation given the complex developments of the COVID-19 pandemic, contributing to promoting solidarity, cooperation and experience exchange between political parties.
The Communist Party of Vietnam will continue to play an active role in the ICAPP's activities, for peace, cooperation and development in the region and the world as well, she affirmed.
The meeting brought together representatives from 33 political parties in Asia, and the Asia-Europe Political Forum.
The delegates reviewed the operation of the ICAPP after the 34th meeting, and decided its major matters in 2021, especially preparations for the 11th General Assembly of the ICAPP and the 20th founding anniversary, along with cooperation in COVID-19 combat.
They also discussed expanding collaboration between political parties in Asian with their counterparts in Europe, North America, Latin America and Africa./.
Election preparations in Binh Phuoc inspected
A delegation of the National Election Council (NEC) on April 21 visited the southern province of Binh Phuoc to examine local preparations for the elections of deputies to the 15th National Assembly and all-level People's Councils for 2021-2026.
The delegation was led by Tran Cam Tu, Politburo member, member of the Party Central Committee, head of the committee's Inspection Commission, and member of the NEC.
It was reported that Binh Phuoc has set up 933 election groups. The third consultative conference adopted a list of eight candidates for the seats at the 15th legislature. Meanwhile, 98 people will run for the position of deputy to the provincial People's Council for 2021-2026.
The number of voters in the province now stands at 690,716.
Tu asked the provincial Election Committee to step up training for officials engaging in the election work and promptly settle petitions and complaints regarding the elections.
More attention should be paid to COVID-19 prevention and control during the elections, he said./.
CPV's congratulatory letters handed over to Cuban Party
Vietnamese Ambassador to Cuba Le Thanh Tung on April 20 handed over congratulatory letters, messages and gifts of the Communist Party of Vietnam (CPV) to the Communist Party of Cuba (PCC) following the successful organisation of the PCC's 8th National Congress.
In a letter to General Raúl Castro Ruz, First Secretary of the PCC in the 6th and 7th tenures, Party General Secretary Nguyen Phu Trong expressed his admiration for the seven-decade revolutionary cause of the General, and thanked the Cuban leader for his sentiments towards the Vietnamese Party, State and people over the past 60 years.
In another letter to new First Secretary of the PCC Miguel Díaz-Canel, Trong said he believes that the Cuban people, under the leadership of the PCC, will overcome all difficulties and challenges to complete targets and guidelines set at the freshly-concluded congress.
On behalf of the CPV, Tung also presented a number of gifts, including machines in service of the information work, to the Cuban side.
He said the congratulatory messages of the Vietnamese Party leader vividly demonstrate the solidarity between the Parties, States and people of Vietnam and Cuba, as well as their joint wish for enhanced special relationship.
Juan Carlos Marsán Aguilera, Deputy Chief of the Department for International Relations of the PCC Central Committee, said Party General Secretary Trong is one of the first foreign leaders to extend their congratulations to the PCC on the success of the congress, reaffirming his determination to foster the special relationship between the two nations.
On this occasion, the two sides also discussed specific cooperation activities between the two Parties and States in the coming time./.
New key transport projects to be commenced in HCM City
Ho Chi Minh City will implement a number of key transport projects, including those connecting regions, belt routes, projects in the city's gateway area, and in Thu Duc city.
The HCM City Transportation Works Construction Investment Project Management Authority and the municipal Department of Transport said on April 20 that they will coordinate in this regard.
Deputy Director of the department Phan Cong Bang said HCM City and Tay Ninh, Binh Phuoc and Binh Duong provinces have recently held a meeting on the construction of HCM City-Moc Bai and HCM City-Thu Dau Mot-Chon Thanh expressways.
The construction of the HCM City-Moc Bai expressway is scheduled to start in 2023 and be completed in 2025. Meanwhile, the other is set to be built later due to limited investment capital.
Luong Minh Phuc, Director of the Authority, said they will submit projects to build An Phu intersection and transport infrastructure in Thu Duc to the municipal People's Council for appraisal.
The Authority has also coordinated with Thu Duc to deal with issues regarding site clearance and investment capital.
In late 2020, the municipal People's Council adopted a plan on collecting fees for the use of infrastructure and public utilities at the city's border gates and seaports.
The Transport Department will start collecting fees from July 1./.
Jazz concert by 8 The Theatre
Some up-and-coming singers will perform during a jazz concert held by 8 The Theatre on May 8 and 9 at the Youth Theatre, 11 Ngô Thì Nhậm Street.
After the success of Jazzis # 1: The Roaring Twenties and Jazzis # 2: Mer, Our Journey with Jazz in Hanoi, the upcoming concert will be Jazzis # 3: Night & Day.
According to the organisers, a story about the land of memory will be told through jazz. While singer Dattie Đỗ will present mellow jazz standard songs, the young Mỹ Anh will perform vibrant hard bop songs. The concert will also feature special guests saxophonist An Trần and The Red Eyes Band.
Ticket priced from VNĐ250,000 to 400,000 can be purchased on bit.ly/tickettoNightnDay, or by calling: 0988755358 (Thảo) – 0969767293 (Quang). Email: [email protected]
Visit Vietnam Year 2021 opens in Ninh Binh
The grand opening ceremony of the Visit Vietnam Year 2021 and Hoa Lu Festival 2021, themed "Hoa Lu – thousand-year Ancient Capital", took place in the northern province of Ninh Binh on April 20.
Speaking at the event, Deputy Prime Minister Vu Duc Dam said that tourism is one of the sector hardest hit by the COVID-19 pandemic. To promote tourism amid the pandemic, rational solutions should be carried out to boost tourism digitalisation, with focus sharpened on development of a safe and friendly tourism environment and preservation of traditional cultural values.
He also called on all people to strictly follow safety measures and current regulations while travelling.
"As Vietnam has not opened border for international visitors, this is a good chance for locals to discover the country's stunning landscapes and culture, helping promote patriotism and national pride", he said, adding state-owned agencies and service providers should review their development policies, and upgrade tourism products to get ready for the return of international arrivals.
This year the Visit Vietnam Year event, annually held since 2003, will boast a wide range of activities across the nation to popularise Vietnamese tourism.
Vietnamese tourism has got an impressive leap in the past years, becoming a bright spot in the world's tourism map, while Ninh Binh was honoured as one of the world's Top 50 best tourist attractions, and the most hospitable destination in Vietnam, he underlined.
Meanwhile, Chairman of the provincial People's Committee Pham Quang Ngoc said Hoa Lu land boasts gorgeous natural landscapes, unique culture, and historical values, which have been preserved by local people for years.
In the past years, Ninh Binh has been chosen as a top destination in Vietnam and the world by prestigious travel websites, he said, adding local tourism expanded over 11 percent on average during 2010-2019.
In 2019, the province welcomed nearly 8 million visitors, created jobs and sustainable livelihoods for tens of thousands of local people.
He described hosting the Visit Vietnam Year 2021 as a valuable opportunity for the province to affirm its position in the Vietnamese and global travel maps.
An art programme and a high-altitude firework display were organised following the opening ceremony./.
Social assistance helps disabled people integrate into the community
Looking at the disabled people working hard on the sewing machines, Nguyễn Kim Khôi feels happy and wants to be able to help more people.
Khôi, a disabled man in Đông Ngạc Ward, Hà Nội's Bắc Từ Liêm District, opened a small sewing workshop in 2009, providing vocational training and jobs for more than 100 people with disabilities.
Every day, about 15 people with disabilities come here to learn sewing techniques. After finishing the course, they work at Khôi's workshop and earn VNĐ4-5 million (US$130-170) a month by sewing flags.
In addition to Khôi's establishment, in recent years, Hà Nội has had more and more people with disabilities open vocational training, production and business establishments, creating jobs for themselves and people in similar situations.
Some examples are Vụn Art Cooperative in Vạn Phúc Ward, Hà Đông District, Pink Heart Handicraft Cooperative in Hồng Kỳ Commune, Sóc Sơn District and Embroidery Ltd Co in Quất Động Commune, Thường Tín District.
Việt Nam has about 6.2 million people over the age of two with disabilities, making up 7.06 per cent of the country's population, according to the Ministry of Labour, Invalids and Social Affair (MoLISA).
Of those, more than 1 million are severely disabled. Most live in rural areas and many are victims of Agent Orange.
Millions of people and children with disabilities are nurtured and cared for in social welfare establishments.
With support from the State budget, organisations for disabled people have also mobilised other resources to improve the living conditions of this vulnerable group.
People with disabilities are given care, treatment, orthopaedic surgery, functional rehabilitation, and provided with appropriate assistive devices, health insurance cards and wheelchairs. They are also offered bicycles, scholarships, jobs or new houses.
At least 4.1 million people with disabilities, orphans and poor patients have received helps from the Việt Nam Sponsoring Association for People with Disabilities and Orphans so far.
Fifty provinces and cities nationwide have implemented community-based functional rehabilitation programmes.
Of which, 18 provinces have rolled out the programme in all districts and communes.
According to the Việt Nam National Committee on People with Disabilities, in addition to the social protection policy, the best way to help them integrate into the community is to help disabled people have confidence, support vocational training and create job opportunities.
The country has more than 19,550 people with disabilities who have received vocational training under a project.
The Social Policy Bank has offered job support for 118,781 employees, of which 1,738 are employees with disabilities.
The Department of Employment, MoLISA, in co-ordination with job service Centres of Quảng Ninh and Bình Dương provinces and Hà Nội Association of People with Disabilities, has created stable jobs for 30 disabled people and supported career counselling and business for nearly 2,000 people.
More than 150 families with people with disabilities in eight provinces and cities have been provided animals, plants and production techniques from the Office of the National Committee for People with Disabilities.
Nearly 10,000 families have received loans from the Việt Nam Blind Association with a total amount of VNĐ51.65 billion.
The protection of rights and support policies for people with disabilities have always been a deep concern of the Government, said MoLISA's deputy minister, Lê Tấn Dũng.
Policies, resources and schemes to help people with disabilities are always adjusted to suit reality.
Additionally, positive innovations in communication activities have brought many substantial effects in raising awareness in society on caring and taking care of people with disabilities; changing stereotypes about capacities of people with disabilities and promoting vocational training for them.
To help them integrate into the community, the Office of the National Committee for People with Disabilities and MoLISA will continue to develop and improve policies, support and amend the law to deal with shortcomings as well as create equal opportunities and reduce social barriers for persons with disabilities, Dũng said.
Transport ministry moves to expand use of automatic weighing stations
The Ministry of Transport has called for expanding the use of automatic weighing stations on national highways, prioritising roads with many overloaded vehicles.
After six months of piloting the installation of an automatic weighing system on Highway 5, experts from the transport ministry said high-speed automatic weighing technology helped control and reduce the number of overloaded vehicles on the road.
The experts also said the automatic weighing minimised corruption in the process of punishing overloaded vehicle' drivers.
Nguyễn Văn Huyện, General Director of the Directorate for Roads of Việt Nam (DRVN), under the ministry, said the automatic weighing system has monitored 100 per cent of the number of vehicles using the road.
"The software is controlled by many units, so there is no human intervention in the result of handling violations," he said.
He said that after evaluating the pilot results, DRVN would complete procedures for expanding the use of automatic weighing stations on national highways and major cities and provinces.
"We will prioritise key highways with a large number of overloaded vehicles such as the provinces of Ninh Binh, Thanh Hóa, Nghệ An, the gateways in and out to Hà Nội," he said.
DRVN reported that after six months of piloting the automatic weighing system on National Highway 5 (from August 15, 2020, to February 14, 2021), it found 663 of the 466,782 vehicles were overloaded with goods.
At the National Traffic Safety Committee's online conference on April 9, Deputy Prime Minister Trương Hòa Bình said overloaded vehicles were leading to degraded roads in many localities.
He said vehicles carrying overloaded goods on road was an act of destroying national property, which should be handled seriously.
Craft workshop on herbal dyeing
The Friends of Vietnam Heritage, in collaboration with Indigo Store, will hold a craft workshop on herbal dyeing on Saturday.
Indigo's founder Dương Thị Thanh and her team at the Indigo Store have preserved and restored the traditional culture of ethnic minorities living in the northern mountainous town of Sa Pa in Lào Cai Province by helping about 120 ethnic minority people get involved in the production of organic plants and handmade textiles, aiming to help them make a sustainable livelihood.
During the workshop, attendees will learn about the dyeing techniques before dyeing samples of material using natural dyes extracted from herbs and leaves. Thanh will give information on the herbs and how the dyes have been extracted.
The workshop will take place at Indigo Store, 33A Văn Miếu Street, from 9.30am-11.30am. Cost: VNĐ250,000/person and VNĐ150,000 for students and those under 15 (includes the talk, material and dye to make samples, and a donation to the ethnic minorities in Sa Pa to help keep the craft alive).
Phu Quoc among world's 15 best islands to retire in 2021
Irish publisher International Living named Phu Quoc Island among the world's 15 best islands to retire this year thanks to its beaches, low cost of living and rich culture.
Phu Quoc, Vietnam's largest island, is much loved by retirees thanks to its "low cost of living, rich culture and history, and variety of urban to rural areas to live."
"It's appealing to retirees for its many beaches and opportunities to enjoy the outdoors in tropical weather," the company said.
The island received over five million visitors in 2019, up 30 percent from 2018, including 541,600 foreigners.
The three other Asian islands were Malaysia's Penang, Indonesia's Bali and Thailand's Koh Samui./.
More than 100,000 Vietnamese people vaccinated against SARS-CoV-2
As many as 106,929 Vietnamese people in 27 cities and provinces have been given an AstraZeneca coronavirus vaccine shot since the national COVID-19 vaccination campaign was launched in March, according to the Ministry of Health (MoH),
Localities such as Hanoi, Bac Giang, Bac Ninh, Hai Duong, Hoa Binh, Tuyen Quang, Cao Bang, Dien Bien, Binh Dinh, Khanh Hoa, Thua Thien-Hue, Ho Chi Minh City have kick-started the second phase of the national inoculation campaign.
The MoH has distributed the vaccine to localities, relevant ministries and agencies, and requested them to complete the campaign before May 5. It warned to recall the delivered vaccine if the designated localities and agencies do not meet the deadline.
Meanwhile, the MoH's 06.00hrs update on April 21 shows Vietnam has not recorded new coronavirus cases during the past 12 hours after confirming 10 imported cases on April 20 evening.
Localities have completely controlled the coronavirus outbreak in the community since the virus recurred in late January.
Vietnam to compete in play-off round to qualify for Futsal World Cup finals
The Vietnamese national futsal team are set to join the likes of Thailand, Iraq, and Lebanon in competing in a play-off round as the four teams battle it out to make it to the finals of the FIFA Futsal World Cup 2021.
The teams, now ranking between fourth and seventh positions in the Asian region, are competing in the play-off round to select the best two teams to the FIFA Futsal World Cup alongside the region's other finalists, including Iran, Japan, and Uzbekistan.
Ahead of the fixtures, the Asian Football Confederation (AFC) will announce the time, venue, and competition format of the round.
The FIFA Futsal World Cup 2021 finals are scheduled to take place between September 12 and October 3 in Lithuania.
Despite the global impact of the COVID-19 pandemic, the Vietnamese national futsal team held two gatherings last year, including a training camp in Spain.
At present, local players are taking part in the National Futsal HDBank Championship 2021.
Following the AFC revealing the new schedule for the play-off round, the Vietnam Football Federation (VFF) will then plan a training camp ahead of the FIFA Futsal World Cup 2021.
Noi Bai Airport expected to see record passenger traffic in coming holidays
An airport representative said after the Lunar New Year holiday in mid-February, when the COVID-19 resurgence was brought under control, the number of passengers on domestic air routes has posted continual growth since March.
The airport expected that the throughput will reach about 75,000 passengers each day during the holidays, equivalent to 485 – 500 flights per day, rising some 25% from the current figure.
At present, the Noi Bai International Airport is handling nearly 60,000 passengers with 400 flights each day on average.
The number of domestic flights to/from this airport has recovered to the peak level in 2019, it noted, adding that to prepare for the approaching national holidays, which will last from April 30 to May 3, and the summer's peak travel season, the airport has arranged aviation security and police forces to ensure smooth traffic, maximised the security screening system, and increased check-in kiosks.
Quang Nam offers 50% discount on entrance tickets to Hoi An ancient town
The central province of Quang Nam will continue offering discounts of up to 50% on entrance fees to a number of major tourist attractions in the locality in an effort to get tourism services back on track following a hiatus caused by the COVID-19 pandemic, according to local authorities.
The discounts are part of Quang Nam's policy to reboot local economy and revitalize the crippling tourism industry in the post COVID period, said  Phan Viet Cuong, secretary of the Provincial Party Committee.
Cuong said the province will continue to offer a 50% discount on the entrance fees to the Hoi An Old Quarter and Cu Lao Cham Biosphere Reserve, which have been both recognized by UNESCO. The discount policy also applies to admission fees to the Bay Mau Coconut Forest, which takes visitors to the peaceful countryside to discover local lush green coconut trees.
A wide range of events aimed at stimulating tourism demand in Quang Nam will also take place on this occasion. The maximum support level will not exceed the sum of VND500 million for each event, with total funding reaching up to VND10 billion.
The locality will provide total funding of VND390 million to 13 private relic sites located within the old quarter as it reopens to tourists, with each relic site receiving VND5 million per month.
Quang Nam will also offer a funding of VND500 million to MICE (meetings-incentives-conferences-exhibitions) tour packages comprising 100 tourists each staying in the locality.
HCM City hosts debut trans-Vietnam book festival
Hoa Lu Stadium in Ho Chi Minh City welcome the launch of the nation's first ever trans-Vietnam book festival on April 21, with the event attracting hundreds of visitors in the process.
The festival has been jointly organised by six publishing houses, including Youth, Thai Ha Books, Nha Nam, Minh Long, Dinh Ti, and Saigon Books, with the aim of celebrating Vietnam Book Day, which falls on April 21 annually.
Along with promoting a reading culture among society, the function serves to contribute to fighting against fake books which can be widely distributed, thereby providing an opportunity for readers to purchase high-quality books.
During the course of the festival readers will be able to find a variety of books with discounts of between 20% and 50%.
Talks discussing various interesting themes, including books on Industry 4.0 and travelling, will be held throughout the occasion.
The book festival is scheduled to close on April 25.
French Consulate General in HCM City to host urban arts event
The outcome of the performance will be inspiring artworks that represent the artists' views about the future world. The completed works will be displayed along the walls of the French Consul General in HCM City and will continue to be presented to the public in various cities across Vietnam.
This event is the final round of the Young Talent Contest for Street Artists. The jury as well as the public, through online voting, will together select the best artists to attend the street art festival that will take place in November.
In addition, the two best artists among them will win an all-expense paid 15-day stay in Lyon, France.
The six participating artists comprise Nguyen Tan Luc (also known as CRESK), Le Nhat Huy (KLEUR), Trang Nhon Khoa (ZKHOA), Dinh Nhat Khang (VUIQA), Luu Doan Duy Linh (DAES) and Vuong Nhat Thuan (KinGi).
They will be accompanied by guest artists Daos 501 and Suby One.
Vietnam-Germany Hospital receives RCS centre accreditation
Viet Duc (Vietnam-Germany) University Hospital has been granted surgical centre accreditation by the Royal College of Surgeons of England.
The accreditation process itself includes an assessment of facilities, resources, and faculties, in addition to an evaluation of the education portfolio. This is in addition to the infrastructure and quality management processes which serve to underpin the delivery of the centre's educational product.
Originally established in 1906, the hospital makes up the largest surgical centre in Vietnam and specialises in several major areas such as medical care, scientific research, education, and training. Other significant areas include international co-operation, medical direction guidelines, medicine prevention, and economic management.
The hospital carries out a number of training courses for thousands of students annually, whilst also co-operating with international hospitals from across the world, including France, the United States, Japan, the UK, the Republic of Korea, Australia, and Taiwan (China).
It has also set up a telemedicine system alongside other local peripheral hospitals funded by German official development assistance (ODA) capital.
Source: VNA/VNS/VOV/VIR/SGT/Nhan Dan/Hanoitimes
VIETNAM NEWS HEADLINES APRIL 22 have 6947 words, post on vietnamnet.vn at April 22, 2021. This is cached page on Travel News. If you want remove this page, please contact us.