WHO highly values Vietnam's vaccine regulation system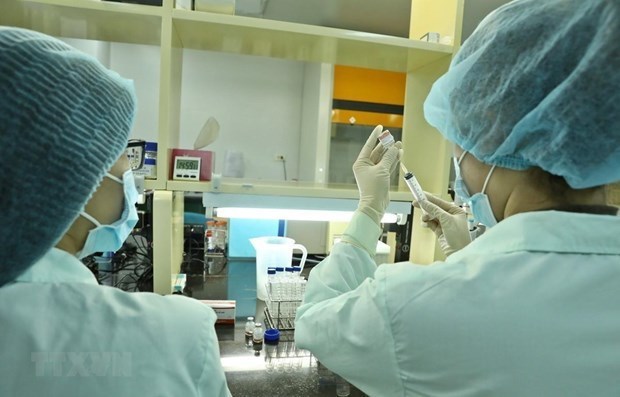 Employees of the Company for Vaccine and Biological Production No 1 work on a COVID-19 vaccine candidate
Level 3 represents a stable, well-functioning, and integrated regulatory system.
The ministry noted that the NRA assessment was conducted by using the Global Benchmarking Tool (GBT) of WHO to ensure the quality, safety, and effectiveness of vaccines.
The NRA of Vietnam was recognised to be well-functioning under the GBT in April 2015.
In 2018, WHO sent a team of international experts to Vietnam to re-assess this system basing on the updated GBT, which requires greater efforts to further complete NRAs, even those already recognised in 2015.
In the latest assessment, the NRA of Vietnam obtained Maturity Level 3 in eight of the nine vaccine regulating functions. Efforts are still being made to improve its maturity in terms of pharmaceuticals and other medical products.
The Health Ministry noted that the Vietnamese NRA has been maintained and developed over the past years to meet domestic vaccine demand, creating a prerequisite for this system to become a prestigious authority and export domestically made vaccines.
Vietnam is now capable of manufacturing 11 vaccines against 11 diseases (tuberculosis, diphtheria, whooping cough, tetanus, hepatitis B, Japanese encephalitis, cholera, typhoid, measles, rubella, polio) for the national expanded immunisation programme, along with many other vaccines such as seasonal influenza, H5N1 and rotavirus.
The country also has four developersof COVID-19 vaccines, and two of them are conducting clinical trials so as to debut their vaccines in 2021./.
Vietnam climb one notch in latest FIFA rankings
The Vietnamese national men's football team have risen one place up to 92nd position in the world, according to the latest rankings released by football's global governing body FIFA.
Despite playing no international games over the past year due to COVID-19, Vietnam inched up one notch to 92nd due to some other national teams' losses in FIFA World Cup 2022 qualifiers in recent times.
The global rankings show Vietnam top the Southeast Asia rankings and remain the 13th best team in Asia.
Thailand have climbed four places to 106th in the world and finished second in Southeast Asia .
Elsewhere in the region, the Philippines are ranked in 125th, while Myanmar and Malaysia are placed 139th and 153rd, respectively.
Furthermore, Singapore have kept hold of 159th spot, followed by Indonesia and Cambodia who are tied in 173rd and 174th places, Laos in 185th, Brunei in 189th, and Timor-Leste in 196th.
Topping the world rankings are Belgium, France, Brazil, England, and Portugal.
ABC to broadcast series promoting Vietnamese cuisine
The Australian Broadcasting Corporation (ABC) will broadcast a 10-espisode series on discovering Vietnamese culture and people via its traditional cuisine starting April 11.
Hosted by Vietnamese Australian chef Luke Nguyen, the show will run at 8:30 pm every Sunday, featuring renowned dishes of localities across Vietnam.
Luke Nguyen has attached himself to the culinary career for over 30 years. He is renowned for a chain of restaurants worldwide like Red Lantern, Moi Moi by Luke Nguyen and Vietnam House. He judged the Master Chef Vietnam seasons 1 and 2 and was a special guest of chef Gordon Ramsay's Great Escape programme and Master Chef Australia.
He was once the official food ambassador of Etihad Airways, being responsible for planning menus for the airline's flights to and from Vietnam./.
No new COVID-19 infections documented on April 8 morning
Vietnam documented no new COVID-19 cases in the past 12 hours to 6:00 am on April 8, making the nation's tally unchanged at 2,659, according to the Ministry of Health.
Of the total infections, 1,603 were domestically-transmitted cases, including 910 recorded since the latest outbreak hit the northern province of Hai Duong on January 27.
A total 36,971 people who came in close contact with COVID-19 patients or arrived from pandemic-hit areas are under quarantine nationwide, including 516 at hospitals, 20,830 at other quarantine sites, and 15,625 at home.
Among patients under treatment, 22 have tested negative for SARS-CoV-2 once, 11 twice, and 17 thrice.
The Treatment Sub-committee under the National Steering Committee for COVID-19 Prevention and Control reported that Vietnam has seen 2,429 recoveries so far.
The health ministry said that additional 1,198 Vietnamese got COVID-19 shots on April 7. As of 4:00 pm on the day, 55,151 frontline workers in 19 provinces and cities nationwide were vaccinated.
In a bid to live safely with the pandemic, people should strictly follow the Ministry of Health's 5K message: khau trang (facemask), khu khuan (disinfection), khoang cach (distance), khong tu tap (no gathering), and khai bao y te (health declaration)./.
Tat Thanh Cang, Le Van Phuoc expelled from Party
The Party Central Committee's Secretariat on April 7 decided to expel Tat Thanh Cang, former member of the Ho Chi Minh City Party Committee, and Le Huu Phuoc, member of Phu Yen province's Party Committee and Secretary of the Party Civil Affairs Commitee of and Chief Justice of the People's Court of Phu Yen, from the Party.
After considering the proposals of the Party Central Committee's Inspection Commission, the Secretariat found that while performing his role as a member of the Party Central Committee and Permanent Deputy Secretary of the HCM City Party Committee, Cang committed serious violations of the principle of democratic centralism, working statutes, Party regulations and State laws, causing great damage and loss to the state budget.
Cang had been prosecuted by the city's Investigation Police Agency for charges of "violating regulations on management and use of State assets, causing losses and wastefulness".
Meanwhile, Phuoc, with his responsibility as a member of Phu Yen province's Party Committee and Secretary of the Party Civil Affairs Commitee of and Chief Justice of the People's Court of Phu Yen, infringed Party regulations as well as the principle of financial management, causing serious consequences. Phuoc was sentenced to 12 and a half years in prison for "Embezzlement" by the People's Court of Da Nang city.
The two's violations are serious, frustrating public opinion and badly affecting the prestige of the Party organisation, said the Secretariat./.
Hanoi turns down proposal on pavement business
The Hanoi Department of Transport has opposed the proposal to allow business activities on the pavements of five major streets in the city centre.
The move followed the proposal by Hoan Kiem District's authorities on piloting business activities on Hai Ba Trung, Ly Thuong Kiet, Tran Hung Dao, Le Phung Hieu and Phung Hung streets for business activities from 6 am to 2 am of the next day.
According to Hoan Kiem District's authorities, local streets are being encroached upon by unlicensed business activities. So the pilot of licensing business activities in some streets is aimed to deal with the problem as well as help attract more tourists.
However, in a document sent to the municipal People's Committee, the Hanoi Department of Transport disagreed with the idea, saying that it was inappropriate based on current regulations, particularly the use of pavements for anything other than traffic purposes.
The streets listed have high traffic density, especially at rush hours. So, business services here are likely to worsen the traffic situation, the department stressed.
Voting of Vietnam's top 10 ICT businesses 2021 launched
The Vietnam Software and IT Services Association (VINASA) launched voting for the annual top 10 leading Vietnamese information, communication and technology (ICT) firms in 2021 in a Hanoi event on April 7.
The programme aims to support the government's goal of having 100,000 digital technology companies by 2030.
This year's event will select the 10 best ICT companies in 17 categories, including e-government, smart city, logistics solutions, e-commerce, start-ups, information security, artificial intelligence of things (A-IoT), cloud computer services, blockchain, fintech, property technology (PropTech), education technology (EdTech) and medical technology (MedTech).
Candidate enterprises will be evaluated across seven criteria as followed financial indicators; human resources; products and services; technology and R&D capacity; leadership and business management; awards, titles and recognised achievements; and special assessment for each sector.
The evaluation process features three rounds – profile selection, presentation and verification, final voting. Judges will comprise leading experts in technology, finance, corporate governance, e-Commerce, Start-up and media.
Addressing the event, VINASA Vice Chairwoman and Secretary-General Nguyen Thi Thu Giang said given that digital transformation is in high demand in today's context, the selection and introduction of reputable solution suppliers and capable partners will quickly connect firms and facilitate their effective cooperation.
This year, the voting categories are expanded with the honouring of leading companies in new sectors – Fintech, Proptech, EdTech, and MedTech, she said, adding that the move does not only keeps up with the latest trend but also helps seek solutions for real-life problems in certain fields.
The presentation round is scheduled on May 15 – 16. The announcement and award ceremony will take place on July 13, prior to the Vietnam ICT Summit 2021. ICT companies may register to join the programme on the website: top10ict.com.
The Top 10 Vietnam ICT businesses programme was launched in 2014.
The software and technology services industry has posted high growth over the last five years, expanding 26.1 percent in average annually.
Last year, the industry earned 120 billion USD in revenue. Of the figure, more than 6 billion USD was generated by software and digital content, twice as high as that in 2015./.
Vietnam, Malaysia seek to promote defence cooperation
The Defence Ministries of Vietnam and Malaysia should consider setting up suitable dialogue mechanisms, including defence policy dialogue at the deputy minister level and joint working group on defence cooperation, thus creating a foundation for practical collaboration activities, officers have suggested.
At their meeting in Hanoi on April 7, Vietnamese Deputy Minister of National Defence Sen. Lieut. Gen. Hoang Xuan Chien and newly-appointed Malaysian Defence Attaché in Vietnam Colonel Ahmad Jais bin Tasliman noted that due to impacts of COVID-19 pandemic, the two sides were not able to implement many military-defence cooperation activities in 2020.
They agreed that after the pandemic is controlled, the two nations will conduct cooperation activities in the fields of personnel training, air force, naval, coast guard, while completing and signing a new memorandum of understanding on bilateral defence cooperation.
Chien showed his delight at the fruitful cooperation between the armies of Vietnam and Malaysia over the years, especially in the areas of personnel training and navy, and at multilateral forums as well as ASEAN-led mechanisms.
For his part, Ahmad Jais pledged that in the new position, he will work hard to promote defence cooperation between the two countries./.
Cat Linh-Ha Dong urban railway to be put into commercial operation on Reunification Day
Hanoi's Cat Linh-Ha Dong urban railway line, invested in by the Ministry of Transport, is expected to be put into commercial operation on the Reunification Day (April 30), a leader from the ministry has said.
Difficulties in the project have been basically dealt with while safety certification has been completed.
The ministry and relevant units previously checked and handed over the project to Hanoi authorities.
A 20-day trial began on December 12, 2020 for inspection purposes.
Vietnam Register granted registration certificates for 13 trains and related works in September last year.
During the first 15 days of operation, passengers can travel free of charge. Tickets will then cost 15,000 VND per trip.
The 13.5-km railway line, running from Cat Linh in Ba Dinh district to the suburban district of Ha Dong, cost approximately 868 million USD, two-thirds of which were loans from China.
It has a main elevated line of more than 13km, 12 stations, and 13 trains. Each train, whose designed speed is 80 km/h, has four carriages capable of carrying over 900 passengers./.
Hai Duong closes last temporary hospital for COVID-19 treatment
The temporary hospital for COVID-19 treatment No 3 in Hai Duong, the last of its kind in the northern province, was disbanded on April 7 now that the third major resurgence of the coronavirus has been brought under control.
Converted from a vocational training centre at the Sao Do University in Chi Linh city, the hospital began operations on February 26.
It provided treatment to 193 patients and its 21 remaining patients will be transferred to the province's Hospital for Tropical Diseases for further treatment.
Hai Duong had recorded 726 COVID-19 cases as of April 7, including 685 recoveries and no fatalities.
Some 17,560 people had direct contact with confirmed cases and only four are still under quarantine at concentrated sites, according to the provincial centre for disease control./.
Vietnam's new leadership makes headlines in Algeria
Algerian media has published extensive coverage of Vietnam's new leadership as well as the country's impressive economic achievements amid the adverse impact of COVID-19.
Prestigious newspapers and websites such as El-Moudjahid, Cresus, Reporters, La Patrie-news, Culture-Algerie, Reseau-international, and Algerie360 ran articles saying the newly-elected leaders have high prestige.
They also commended the socio-economic and diplomatic achievements Vietnam recorded during the 2016-2021 period, most notably the successful implementation of the dual goals of containing the pandemic and maintaining economic growth last year.
According to the articles, with his rich experience, Prime Minister Pham Minh Chinh is expected to help the Government overcome the existing difficulties and challenges to fulfil the strategic targets set for the next five years.
They also lauded Vietnam's rising position in the international arena, especially it assuming the United Nations Security Council Presidency this month, adding that this is the second time the country has held the seat in the 2020-2021 tenure.
It presents a major opportunity for the country to contribute to peace, security, and prosperity in the region and the world in a more active, proactive, and responsible manner, the articles said.
While highlighting the traditional relations and friendship between Vietnam and Algeria, the articles also noted that many fields of endeavour are yet to match potential, especially in economy, trade, and investment.
The authors believe that the new Government in Vietnam will adopt suitable mechanisms and policies to further step up bilateral ties.
Vietnamese Ambassador to Algeria Nguyen Thanh Vinh said the articles contribute to promoting Vietnam's image and raising understanding among Algerians, particularly young people, about the country as well as the bilateral relationship./.
Investment in transport key to Vietnam's economic growth: US magazine
Vietnam is at a crossroads in its development and requires investment in its transportation network to sustain and expand its growth, said US-based Borgen Magazine in a recent article.
Per the article, titled "Developing Vietnam's Transportation Infrastructure" published on April 6, since the 1986 economic reforms launched at the Communist Party of Vietnam's (CPV) sixth national congress, Vietnam has experienced incredible economic growth. However, the country's transportation infrastructure is still woefully behind many other developed economies.
Regarding the links between infrastructure development and economic activity, the article noted that improving travel networks will have a profound impact on Vietnam's transportation infrastructure by increasing viable economic activity. It will better connect consumers with producers and decrease the transportation costs for moving products and resources by increasing the efficiency of transporting them.
Additionally, developing Vietnam's transportation infrastructure directly affects those who suffer from poverty by better connecting areas with little economic opportunity to vital economic centres.
The article said the Vietnamese government has responded to this need by creating a nationwide connectivity project, the North-South Expressway. The 5 billion USD project covers the country at 2,109 kilometers of road, more than doubling the 1,000 Kilometers of current Vietnamese highways.
It added that the coming into effect of the local Public-Private Partnership (PPP) Law will strengthen the Vietnamese legal framework for PPP projects. The law aims at making private and foreign investment in Vietnam's transportation infrastructure projects simpler, less risky and, therefore, more appealing, said the article./.
Vietnamese students win Your World Competition by British Council
Students from Thanh Xuan secondary school in Hanoi have been recognised for their efforts after producing a short view as part of the Your World Competition launched by the British Council.
This marks the first time Vietnam has participated in the event, with entries sent from 127 countries.
The award-winning entry features five students from Thanh Xuan secondary school who make a short live-action video as part of the Resilient Communities category. Most notably, their entry, titled the "COVID-19 epidemic" is a hot topic for this year's competition.
The Your World" Competition is a flagship activity which is part of the Partner School Global Network (PSGN) programme.
All students aged between 14 and 17 who take UK qualifications, such as International GCSE and A Level, in PSGN schools were invited to participate in the sixth annual PSGN Your World Video Competition.
The event aims to create greater opportunities for students to make use of their creativity and connect with each other, while also providing a window into their unique lives, environments, and experiences.
The video which wins at country level will subsequently progress to the regional finals where a decision will be made to choose the global winner.
Int'l workshop spotlights Vietnam's role in Asia-Europe partnership
International experts and scholars highly have valued Vietnam's role and its contributions to connecting the Eurasian Economic Union (EAEU) with partner countries and regional organisations.
During an international workshop held by the Eurasian Peoples' Assembly (APE) in Moscow, Russia, on April 6, participants also praised Vietnam's dynamic development and its role in linking projects and development initiatives to further promote the Asia – Europe partnership.
In his speech, APE General Secretary Andrei Belyaninov congratulated newly-elected Vietnamese leaders, noting that the Russian people have always followed Vietnam's achievements with their sincerity and respect.
Belyaninov said Vietnam has become an "emerging tiger in Asia" with a rapidly growing economy and a large market, expressing his hope that Russia and Vietnam will jointly promote people-to-people diplomacy in the time to come.
Sharing this view, Minister in charge of Integration and Macroeconomics of the Eurasian Economic Commission Sergei Glazyev affirmed that Vietnam is actively participating in the regional integration process, and is a pioneer in establishing a free trade area with the Eurasian Economic Union.
He noted with delight that bilateral trade between Russia and Vietnam has been growing despite the COVID-19 pandemic.
For her part, President of the Vietnam Union of Friendship Organizations (VUFO) Nguyen Phuong Nga briefed participants on Vietnam's goals and visions set in the Resolution of the 13th National Congress of the Communist Party of Vietnam (CPV).
According to Nga, international solidarity and assistance was one of the factors that have helped Vietnam to gain successes in the cause of national construction and protection.
Participants also analysed the possibility to connect development projects and initiatives, as well as ways to further expand partnerships and people's diplomacy within the Eurasian region.
In an interview granted to the Vietnam News Agency's correspondent in Russia, Svetlana Smirnova, First Deputy Secretary General – Head of the General Secretariat of the APE, positively evaluated the results of the workshop, stressing that it opened an important direction for the cooperation between the APE and Vietnam.
She revealed that a festival of Eurasian nations will be organised in Vietnam in the coming time, which will cover a series of activities such as sport exchange, Eurasian business forum, and youth cooperation./.
South African newswire highlights Vietnam's new leadership
"The Diplomatic Society" newswire of South Africa on April 6 carried an article on the newly-elected leaders of the Vietnamese Party and State.
In the article, founder and Editor-in-Chief of the newswire Kirtan Bhana said world leaders, heads of international organisations and regional bodies have congratulated and acknowledged the election of the Vietnamese leaders. Party General Secretary Nguyen Phu Trong, State President Nguyen Xuan Phuc, Prime Minister Pham Minh Chinh and National Assembly Chairman Vuong Dinh Hue were confirmed in their leadership roles after the deliberations and consultations of the 13th National Party Congress which wrapped up in February 2021.
The author noted that the Resolution of the 13th National Party Congress stated that the country will "focus on measures to basically complete the elements of a socialist-oriented market economy, better handling the relationship between the State, the market and society. Vietnam's development achievements, recognised prestige and elevated status over the past five years have created circumstances to realise its true potential."
The election of the Politburo, the Secretariat, and the General Secretary of the Party reflected the effectiveness of the preparatory personnel work, which screened out unqualified or undeserving people from the Party Central Committee while including people with morality, talent, and a good reputation.
General Secretary Trong was re-elected to a third term while former PM Phuc was elected as President allowing him to stay among the country's top leaders, providing a continuity of policy implementation. Hue, former Minister of Finance and former Deputy PM, has been approved as NA Chairman completing the top four roles in the Government.
According to the author, PM Chinh and his Government will prioritise international relations and diplomacy. He cited Deputy Foreign Minister Bui Thanh Son as saying that Vietnam's astute and pragmatic international relations and diplomacy has significantly contributed to maintaining a peaceful, stable environment favourable for national development, as well as national security.
The article highlighted that recently, Vietnam has set up comprehensive partnership with five more countries and upgraded relations with two others to a strategic partnership, raising the total number of its strategic partners to 17 and comprehensive partners to 13, including all permanent members of the United Nations Security Council and ASEAN member nations. The conclusion of five free trade agreements (FTA) positions Vietnam at the centre of a network of 16 regional FTAs that will attract significant resources and investment to the country.
Son was quoted as saying that diplomacy has played a significant role in raising the country's position, as reflected through its hosting of the Asia-Pacific Economic Cooperation (APEC) forum in 2017, the World Economic Forum on ASEAN in 2018, the 26th Annual Meeting of the Asia-Pacific Parliamentary Forum in 2018, the summit between the US and the Democratic People's Republic of Korea (DPRK) in 2019, its ASEAN and AIPA Chairmanship last year, and non-permanent membership of the UN Security Council for 2020-2021./.
3,000 athletes to join Ba Den Mountain Marathon
The first-ever version of the Ba Den Mountain Marathon is due to be held in Tay Ninh province from April 24 to April 25, drawing the participation of approximately 3,000 athletes.
Athletes participating in the event will compete for a total of 15 prizes worth VND120 million.
According to Nguyen Manh Hung, deputy chairman of the provincial People's Committee, Tay Ninh province is in the process of launching several activities in an effort to stimulate tourism throughout the locality.
Despite facing complicated developments relating to the spread of the novel coronavirus (COVID-19), last year saw Tay Ninh province welcome over 2.2 million visitors. The majority of travelers went to Ba Den Mountain which is widely considered to be the most attractive destination in the province.
Hand, foot, mouth cases with severe complications on the rise
Hospitals in many localities have recorded a surge in hand, foot and mouth disease cases among children in the past month, with the number of patients in serious conditions increasing and at least one death linked to the disease.
HCM City has recorded a significant increase in the number of infected children.
Nguyễn Thị Kiều Dư, a mother of a three-year-old boy in District 4, said she noticed a rash with blisters on her child's palms and mouth when she picked him up after school.
Dư thought he might have suffered an allergic reaction, but the child soon had a high fever, lost his appetite and more red, blister-like lesions appeared on his hands. She took the boy to the HCM City's Hospital for Tropical Diseases.
"The doctors said my child had hand, foot, mouth disease and required him to be immediately hospitalised for treatment. He is now under special treatment," she said.
Dr Dư Tuấn Quy, deputy head of the department, said about 25 infected children were being treated at the hospital daily, a figure four times higher than the previous month.
Most of the serious cases are positive for Enterovirus 71 (EV71), a type of virus causing easily transmitted infection and severe complications.
"The rise in the number of infected children should cause alarm, especially as students have gone back to school after the (COVID-19) pandemic," he said.
The Children's Hospital No2 has reported treating 40 infected children every day, and a third of them are in a serious condition.
As many as 14 cases are reported in the City Children's Hospital at present. Notably, three children are in intensive care and on ventilators.
The city's Centre for Disease Control estimates that as of March 15, more than 2,560 cases of hand, foot and mouth disease have been recorded, up 2.5 times from the same period in 2020.
Between March 8-11, there were 346 cases recorded among patients from all districts in the city.
The same situation has been occurring in the Central Highlands province of Đắk Lắk and central Khánh Hoà Province.
Đắk Lắk Province's Centre of Disease Control reported 250 infections in the first three months of this year, mainly in Buôn Ma Thuột City, Buôn Hồ Town and Buôn Đôn District.
In Bình Định Province, a 19-month old baby died in mid-March with suspected hand, foot and mouth disease, two days after being taken to hospital.
In Khánh Hoà Province, 244 cases have been recorded in the same period in Nha Trang City, Khánh Sơn and Diên Khánh districts.
Dr Nguyễn Đông, director of Khánh Hoà Province's Hospital for Tropical Diseases, said most of the patients were under five years old.
Many parents decided to treat their children at home instead of taking them to the hospital as they were concerned about the spread of COVID-19, which meant the children didn't receive timely treatment, harming their health, he said.
The centres of disease control of the three localities have warned local health centres to work with the educational sector to prevent the outbreak of the disease at pre-schools.
Pre-schools are required to sterilise classrooms and toys regularly and report to local authorities when new hand, foot and mouth cases are found. Parents should be encouraged to take their children to the hospital if the children show symptoms of the disease.
Hand, foot, mouth disease is a highly contagious infectious disease caused by the Coxsackie virus (A16) and Enterovirus 71 (EV71). The viral illness commonly afflicts children aged under five and has no vaccine or specific treatment.
Campaign to be held for World Intellectual Property Day
An online campaign will be held to mark World Intellectual Property Day 2021 (April 26) themed "Intellectual property and small businesses: Taking big ideas to market".
According to the Director of the Intellectual Property Office of Vietnam, the campaign will feature a wide range of activities to connect the community, media, schools, and enterprises, including a writing contest and online conferences and forums to provide information on intellectual property to businesses, artists, inventors, and the community.
Various documents will be promoted to introduce the important role of small- and medium-sized enterprises (SMEs) in the economy and how they can use their intellectual property rights to become stronger and improve their competitiveness and resilience.
Other activities include the building of a website providing information on intellectual property, affairs, videos, and Q&As on the subject. Social media users are encouraged to use the hashtag #worldipday to promote activities.
A photo contest will also be organised, along with talks introducing products of businesses, artists, and inventors and matters relating to intellectual property rights.
A number of specific events will also be held, targeting different groups, especially students./.
Various activities planned to celebrate 8th Vietnam Book Day
A series of activities will take place across the country to celebrate the eighth Vietnam Book Day.
An opening ceremony will be held on April 18 on Ho Chi Minh City's book street, while a national online book festival will run from April 17 to May 15 at book365.vn.
HCM City's book street will also host a symposium on the development of a reading culture amid digital transformation, and the launch of book collections on the implementation of the resolution from the 13th National Party Congress, HCM City, and digital transformation.
Book lovers can also join a fan meeting with prolific author Nguyen Nhat Anh.
Anh is one of only a few authors in the city to write for children, and has penned many contemporary classics, including "Kinh Van Hoa" (Kaleidoscope) and "Thang Quy Nho" (The Mischievous Boy), which are favourites of thousands of children and teenagers around the country.
Participants at the national online book festival will have the chance to discuss the development of a reading culture and gain an insight into digital transformation in the publishing industry, as well as how to access books in the context of the Fourth Industrial Revolution.
Then Prime Minister Nguyen Xuan Phuc issued Decision No 284/QD-TTg on February 24, 2014, designating April 21 as Vietnam Book Day, in order to encourage a reading culture among the public./.
Opening ceremony of 2021 National Tourism Year slated for April 20
A highlight of the 2021 National Tourism Year will be the opening ceremony slated for April 20, which is expected to see the participation of about 2,000 guests and 7,600 local people and visitors, heard a press conference on the event held in the northern province of Ninh Binh on April 6.
The ceremony will take place at the national special heritage site of Hoa Lu ancient capital and be broadcast live.
It will promote the province's cultural and historical values, resources, and tourism products, contributing to the recovery and development of tourism amid the adverse impact of COVID-19.
Speaking at the press conference, Director of the Ninh Binh Department of Tourism Bui Van Manh briefed participants of the hosting the 2021 National Tourism Year.
Events will take place throughout the year, with 11 major activities and 27 others hosted by Ninh Binh, while a hundred corresponding activities will be organised by the Ministry of Culture, Sports and Tourism along with 27 cities and provinces nationwide.
Located in the southern reaches of the Red River Delta, Ninh Binh is known for its wondrous natural scenery, with a labyrinth of waterways, mountains, and plains as well as cross-cultural influences from the north to the south and from the mountains to the plains and coastal areas. It is home to 1,821 relic areas, including 81 national relic sites and a world cultural and natural heritage site./.
Localities on full alert as hand-foot-mouth disease breaks out
The Ministry of Health (MoH) has issued an urgent dispatch detailing prevention and control measures for the hand-foot-mouth disease in an attempt to slow the spread of the disease as case numbers nationwide have increased by four times compared to the same period from last year.
Since the beginning of the year, a total of 17,451 infections have been reported nationwide, in addition to four deaths in the southern provinces of Kien Giang, An Giang and Long An.
The number of infections has quadrupled, warned the MoH adding the surge mainly occurred in the southern region, including Dong Nai, Long An, Dong Thap, An Giang and Ho Chi Minh City.
It is common for cases of the hand-foot-mouth disease to increase in numbers between April and May and between September and October. Indeed, children can be infected with the disease when their personal hygiene and environmental sanitation conditions are not maintained.
The MoH therefore urged localities to strengthen preventive measures this summer, including encouraging people, especially children, to wash hands with soap and keep the living environment clean.
Healthcare facilities were required to avoid disease cross-transmissions and limit the number of deaths.
Khanh Hoa aims to welcome 5 million tourists
Home to the famous beach city of Nha Trang, Khanh Hoa province's tourism sector has set a goal of welcoming 5 million tourists this year, including 1.5 million foreign tourists, and earning over 760 million USD in revenue. With the tourism season now in high gear, the province is ready to reach its targets.
2020 was a turbulent year given the impact of COVID-19, and Khanh Hoa welcomed only 1.4 million tourists, or 19% of the plan, with foreign tourists standing at just 430,000, an 88% decline. This year, however, Khanh Hoa aims to welcome 1.5 million foreign tourists alone.
Khanh Hoa is working to attract both domestic and international tourists, including foreign workers, specialists, and diplomatic officials working in Vietnam. It will also launch promotional campaigns to show that it remains one of the safest destinations in the country./.
First Vietnam hospital awarded Diamond Status for stroke treatment
Ho Chi Minh City-based People's Hospital 115 has become Vietnam's first health facility to achieve Diamond Status certification for its stroke treatment, as issued by the World Stroke Organisation (WSO).
Thang said the Cerebrovascular Ward of the hospital has treated approximately 13,000 stroke patients. More importantly, the hospital has also been able to reduce the average length of stay for patients, going from 5.88 days in 2016 to 4.03 days in 2020. This reduction in treatment time for stroke patients has proved the hospital's effective treatment procedures.
The WSO award is given to stroke centres worldwide which adopt strict requirements in terms of training, equipment, and the treatment of acute strokes, among other issues.
Entities, individuals working in autism come together in alliance
Vietnam Autism Alliance, a strategic partnership between organisations with expertise or interest in autism spectrum disorder in Việt Nam, has been set up to mark Autism Awareness month in April.
By bringing together organisations and individuals who are experts in fields related to autism support such as medicine, therapy, education, care, and technology, VAA hopes to foster awareness so that people with autism and their families can access timely and appropriate support.
Besides, organisations and individuals working in the field have a place to co-ordinate their efforts and collaborate to support people with autism.
The alliance includes Saigon Children's Charity (saigonchildren), Vietnam Autism Network, Thanh Bùi of Education Embassy, experts from the Center for Creative Initiatives in Health and Population, National Special Education Center – Vietnam National Institute of Educational Sciences, Hanoi National University of Education, HCM City University of Education, Children's Hospital 1, Gia Khang International Hospital, CMI International Hospital, Simba development team, and Monstar Lab, Đà Nẵng University of Medical Technology and Pharmacy, and SENIA Vietnam.
Saigonchildren launched www.tukylagi.com at the event to provide information about autism.
It also launched the 2021 'The Steps Challenge' with the message "Step Up for Autism."
The challenge calls on the community to take part in an online walking challenge to raise awareness of the autism spectrum disorder, with each registration contributing VNĐ130,000 (US$5.6) to activities supporting children with autism in disadvantaged circumstances including knowledge building for parents, training for practitioners and providing free early intervention therapy for children.
First launched in 2019 The Steps Challenge has gained widespread recognition in the community by encouraging people to be active.
In the last two years it accumulated over three million steps and raised over VNĐ1 billion ($43,360) for autism support and emergency support for children with autism affected by COVID-19.
Damien Roberts, director of saigonchildren, said: "Autism Spectrum Disorder in Việt Nam is still a relatively new issue for the majority of the public.
"With projects supporting children with autism and their families, we found that general support for autism is still quite fragmented, and a single organisation cannot undertake the issue by itself.
"It is essential to convene all of the parties working to improve research, pedagogy, therapy, intervention, and support in the field." VNS
Rapper may miss concert after suffering injury falling off stage
Popular rapper Karik suffered an injury at a concert this past weekend and may be unable to perform his next gig this Saturday, according to his manager.
On Saturday, while performing at an event in Đà Nẵng, Karik tripped on a loudspeaker and fell from a stage with a height of about 1.6 metres.
In a video of the incident posted to YouTube, the rapper appeared seriously hurt and needed help to get back on stage.
The rapper continued performing the song Đêm nay không ngủ (Sleepless Night). However, he was limping and needed a security guard to support his movements on and off the stage.
The rapper flew to HCM City on Monday, but due to his painful and swollen legs, he was unable to walk on his own and had to sit in a wheelchair. Currently, the coach on the hit TV show Rap Việt is resting and monitoring his injury.
The rapper was seriously hurt after stumbled on a loudspeaker and fell from a stage with a height of about 1.6 metre. Screenshot from Vnews24h video on YouTube.
"Karik can't walk by himself. This morning, the airport staff provided assistance, including a wheelchair on the plane. We are considering the situation, if today, Karik's leg is less painful and swollen, we will take him to have an MRI scan," Karik's manager told zing.vn on Monday.
"Immediately after the incident, the security and the event crew intended to bring Karik to the hospital for a check-up.
"However, according to the agreement with the show, Karik had to perform two more songs. Because of that, he declined the offer and decided to complete the performance. Backstage, he collapsed in pain," the manager added.
On the much-anticipated Rap Việt All-Star concert set to take place on Saturday in HCM City, the manager said Karik is undecided if he will perform.
At the airport, Karik shared a photo on his personal Facebook account showing him wearing a leg brace and sat in a wheelchair with the caption: "A new companion". Many other rappers like Binz, Ricky Star and Only C have sent him good wishes.
Doctors reportedly diagnosed Karik with a ligament injury.
A strong return ahead for domestic beach holidays
Local travel firms have recently launched stimulus schemes to meet the increasing demand among holidaymakers for domestic beach vacations during the peak season this summer.
The majority of coastal localities have devised different plans in order to welcome the return of visitors following a hiatus caused by the emergence of COVID-19. National travel firms and other related businesses have also jointly launched promotional schemes, whilst many are offering additional services and running marketing campaigns.
Vung Tau Streetfood Week 2021 is set to be held with a wide selection of options for visitors ranging from high-class restaurants to street food stalls which will introduce numerous types of local cuisine. In addition, local five-star hotels and resorts will be offering huge discounts, with room rates costing from just VND700,000 per day.
The coastal city of Nha Trang is running a campaign titled "Nha Trang – a safe place" which will feature plenty of activities aimed at welcoming travelers. As part of efforts to boost domestic tourism, hotels and airlines have teamed up to provide discounts of between 50% and 70% for room and flight combo deals.
Elsewhere, Phu Quoc Island also represents a popular destination for holidaymakers this summer. Amid increasing demand for beach holidays, local airlines have been increasing flights to the so-called pearl island.
Moreover, Da Nang is planning to develop fresh products in an effort to attract more local visitors and incoming foreign travellers. The central city will also be making use of Bach Dang walking street, along with check-in spots on Nguyen Van Troi bridge, as the city is set to carry out night-time recreational services until 3 a.m. on a pilot basis.
According to the VNAT, the local tourism industry will continue to focus on the domestic market this year,  aiming to attract 80 million visitors.
Mexican newspapers highlight election of top Vietnamese leaders
El Universal and Voces del Periodista e-newspapers of Mexico have recently run an article on the elections of high-ranking leaders in Vietnam.
Newly-elected President Nguyen Xuan Phuc, who served as Prime Minister during the 2016-2021 tenure, is a politician with extensive experience, the article said, citing the effective implementation of macro management policies during his term.
Such policies have contributed to spurring the national economic growth, and accelerating Vietnam's international integration through major multilateral agreements like the EU-Vietnam Free Trade Agreement (EVFTA), the Comprehensive and Progressive Agreement for Trans-Pacific Partnership (CPTPP) and the Regional Comprehensive Economic Partnership (RCEP).
Therefore, Vietnam has been one of the few countries in the world that have posted positive economic growth (2.91 percent), according to the article.
It also lauded achievements recorded by the Government headed by PM Phuc in containing the COVID-19 pandemic and ensuring economic development.
Pham Minh Chinh, the new Government leader, had held many important positions and made significant contributions to national economic development, Party building and anti-corruption, the article continued.
The new leaders are expected to adopt sound orientations, decisions and policies in order to create great strides in socio-economic development in the next period, it said.
The article also stressed that the friendship and cooperation between Vietnam and Mexico are set to be further consolidated, enhanced and elevated to a new high./.
Book on Vietnam – US exchanges before 1946 debuts
A book on Vietnam – US exchanges prior to 1946 was introduced to the public at an event held by the Vietnam-US Society (VUS) in Hanoi on April 6.
The 260-page book consists of 45 stories on the relations between the two countries during 170 years from 1776 to 1946. The author is Nguyen Van Huynh, former Vietnamese Ambassador to Brazil for 2002 – 2006 and a current member of the VUS. Huynh is a veteran diplomat with nearly four decades working in external relations, including people-to-people exchanges with the US.
According to Huynh, he accepted the request to compile the book in late 2019 during a year-end meeting of the VUS that discussed activities to mark the 25th anniversary of Vietnam-US diplomatic ties and 75th founding anniversary of the society in 2020.
Speaking at the book launch, Bui Van Nghi, head of the Americas Department under the Vietnam Union of Friendship Organisations, said the book is a valuable supplement to the history of the Vietnam – US ties, particularly their people-to-people exchanges that remain unknown to many.
Nghi, also VUS Secretary General, hailed the publication's significance at a time when the two countries have just marked the 25th anniversary of normalization of ties and the VUS celebrated its 75th founding anniversary./.
2021 National Environmental Report to focus on air quality
The 2021 National Environmental Report will focus on air quality and solutions to improve it.
The Việt Nam Environment Administration said air quality was selected as the focus for its 2021 report because the administration's initial assessment showed air pollution in some big cities was at poor levels during 2016-20, impacting people's health.
Per the assessment, the air quality in many localities nationwide has decreased since 2018, especially in Hà Nội and HCM City.
Air pollution in northern provinces, especially Hà Nội, had received a great deal of public attention, the administration said, adding that air pollution was a common issue in major cities in developing countries.
The Ministry of Natural Resources and Environment on March 15 sent a document to the People's Committee and the Natural Resources and Environment Departments of provinces and cities to ask them to provide information and data related to air quality to serve the compilation of the 2021 national environmental report.
The Natural Resources and Environment Departments of provinces and cities were told to send their air quality data to the ministry before June 31.
The departments were told to report data related to air quality in urban areas, rural areas, craft villages and industrial zones, the ministry said.
The report must show the areas with the most air pollution in each locality, the ministry said.
The report will evaluate the main sources of emissions, including thermal power plants, steel mills, cement plants, incinerators, vehicles and industrial production activities. It will also analyse and identify the causes of air pollution in each locality, the ministry said.
Additionally, the report will point out effective solutions to fix the air quality situation in each locality, the ministry said.
No publication date for the report has been set, though it is usually available a year after the start of the collection of data.
Danang vows to help all disadvantaged children
Danang City authorities targets to provide supports to 100% disadvantaged children in 2021.
This is a part of the Act for Children Programme during the 2021-2030 period. The aims include raising awareness about children protection among local authorities, families, and schools in order to create a better and safer environment for child development.
Many goals have been set up for the period. Including reducing the infant mortality rate to below 5.5%, providing soft skills and defence skills against abusive behaviours against 80% of children and knowledge about child protection to 70% of families with children.
The city has committed itself to helping 100% of disadvantaged children in Danang. The city authorities will also provide support to help disabled children access education and other services more easily. The city authorities vowed to help 100% children who have suffered from natural disasters and reduce the number of abused children.
Danang People's Committee asked the Department of Labour, Invalids and Social Affairs to work with other agencies to implement and monitor the programme. They must also report the results back regularly.
The people's committees of districts and wards in the city were asked to develop a child protection plan in accordance with the situation in each locality.
Hundreds of pine trees poisoned in Dak Nong
Authorities in the central highlands province of Dak Nong are investigating a forest destruction case in which some 400 pine trees have just been poisoned and burned.
According to local authorities, many of the trees planted in 2020 in a forest managed by Quang Son Company in Dak-G'Long District were poisoned by herbicides before being burned down.
The burning of the forest occurred on March 27 which caused damage to about 3,000 square metres of the forest before the company was able to control the fire.
"Maybe someone did that to take forest land for farming," the authorities said. "We are co-operating with the company to investigate the case."
Many forest destruction cases have occurred recently in the area. Illegal loggers usually cut down or use chemicals to poison the trees and use petrol to burn them down.
A report from the forest protection agency in Dak Nong Province said that between 2010-2019, the forest area in two communes of Quang Son and Dak Ha reduced by 226 hectares including 32 hectares of pine trees being poisoned.
The agency noted that the situation was caused by lax management by local authorities and the support of some local officials.
Cho Ray Hospital becomes Int'l Society of Nephrology training centre
Cho Ray Hospital in HCM City has been selected as one of 21 regional training centres of the Belgium-based International Society of Nephrology (ISN).
The hospital will become a training centre in nephrology (the study of kidneys) over a five-year period to 2026, and that status will be maintained if it fulfils ISN's criteria.
Cho Ray will provide in-depth specialised training to improve patient care in Vietnam and other countries in the region in the fields of general nephrology, hemodialysis, peritoneal dialysis, and transplants.
Training activities will be in the form of hosting fellows and educational meetings and workshops on regionally relevant topics, and sharing knowledge and expertise via the ISN Educational Ambassadors of Continuing Medical Education programme, among others.
Alongside Cho Ray, other medical establishments selected in Oceania and Southeast Asia include Malaysia's Hospital Kuala Lumpur and Thailand's King Chulalongkorn Memorial Hospital in Bangkok.
ISN Regional Training Centres play a key role in ISN's continuing efforts to establish and develop nephrology in developing countries./.
Vietnam attends ADSOM+ Working Group meeting
Lieut. Gen. Vu Chien Thang, Director of the Defence Ministry's Foreign Relations Department, led a Vietnamese delegation to attend a meeting of the ASEAN Defence Senior Officials' Meeting Plus Working Group (ADSOM+ WG) via videoconference on April 7.
The meeting was chaired by Deputy Permanent Secretary of Policy and Strategy at the Brunei Defence Ministry Haji Adi Ihram Bin Dato Paduka Haji Mahmud, and also attended by heads of ADSOM+ WG of other ASEAN member states and partner countries – Russia, China, the US, Japan, the Republic of Korea, Australia, New Zealand and India.
In his opening remarks, the Bruneian representative emphasised serious impacts of the COVID-19 pandemic that several countries are suffering, and highlighted the implementation of COVID-19 vaccinations which, he said, will make countries get closer to recovery in both regional and international levels.
With the main goal of continuing works of the ADSOM+ WG in February, he showed his hope that this meeting will be constructive and successful.
At the event, participants heard reports of ASEAN Defence Ministerial Meeting Plus (ADMM+) Working Groups on humanitarian assistance and disaster relief, marine security, military medicine, anti-terrorism, peacekeeping, humanitarian mine action and cyber security.
They also exchanged views on a draft joint statement of the eighth ADMM+ and agreed on the dates and agendas of the ASEAN Defence Senior Officials' Meeting Plus and the eighth ADMM+.
On this occasion, the Bruneian side also provided updates on relevant activities and events within the ADMM+ framework in 2021./.
Vietnam, US see fruitful cooperation in overcoming war aftermaths
The Vietnamese Office for Seeking Missing Persons (VNOSMP) held a ceremony to commemorate 16 victims (nine Vietnamese and seven Americans) of a helicopter accident that happened 20 years ago during activities of searching for US soldiers missing in action in Vietnam.
Addressing the event, Le Chi Dung, head of the Department of American Affairs under the Ministry of Foreign Affairs and Director of VNOSMP highlighted that the Vietnamese martyrs' sacrifice showed the traditional tolerance and humanity of the Vietnamese people.
It contributed to the development of the friendship between the two nations as well as bilateral partnership in surmounting bomb and mine consequences left from war in Vietnam, he said.
Dung also underlined the need to ensure utmost security and safety for all personnel engaging in the search for MIAs of both sides.
For his part, US Defense Attaché in Vietnam Thomas Stevenson showed his respect for Vietnamese martyrs and US soldiers who died in the accident, and extended his sympathy to families of the victims.
He commented that cooperation in MIA searching between Vietnam and the US have been implemented in a safe and effective manner, with new progresses.
He thanked the Vietnamese Government and people for their good will and humanitarian policy in seeking American MIAs./.
More congratulations flow in for Vietnamese leaders
Leaders of many countries have sent congratulations to newly-appointed leaders of the State, Government and National Assembly.
State President Nguyen Xuan Phuc received messages and letters of congratulations from Singaporean President Halimah Yacob and Prime Minister Lee Hsien Loong; Indian President Nath Kovind; US President Joe Biden; and UAE President Khalifa bin Zayed Al Nahyan, Vice President and Prime Minister Mohammed bin Rashid Maktoum and Crown Prince Mohammed bin Zayed Al Nahyan.
Congratulations to the State leader also came from Mongolian President Khaltmaagiin Battulga; Nicaraguan President Daniel Ortega Saavedra and Vice President Rosario Murillo; and Sultan of Oman Haitham bin Tarik.
Meanwhile, Prime Minister Pham Minh Chinh received congratulatory messages and letters from Singaporean PM Lee Hsien Loong; Thai PM Prayut Chan-o-cha; Indian PM Narendra Modi; and Premier of the Democratic People's Republic of Korea (DPRK) Kim Tok Hun.
Congratulations were extended to National Assembly Chairman Vuong Dinh Hue from Speaker of India's House of Representatives Om Birla; Speaker of the Senate of Italy Maria Elisabetta Alberti Casellati; Chairman of the State Great Hural (Parliament) of Mongolia Gombojav Zandanshatar; and Speaker of the Palestinian National Council Saleem Al-Za'anoon./.
Dutch Consulate General holds photo exhibition in HCM City
A special exhibition named "Best of Three Years" was opened by the Consulate General of the Netherlands in Ho Chi Minh City on April 7, showcasing a selection of the best World Press Photo Contest winning images from 2018 to 2020.
In the past three years, the Netherlands-based World Press Photo received about 75,000 photos from 125 countries.
The winning photos have been collected and displayed at many places around the world.
Dutch Consul General in HCM City Carel Richter thanked the municipal People's Committee for its support for the organisation of the exhibition.
This is an activity in celebration of the fine friendship between the Netherlands and Ho Chi Minh City, he stated, adding that several winning photos features cooperation between his country with Vietnam in general and Ho Chi Minh City in particular, especially in circular economy water management, food safety and sports.
The exhibition will be open for free until April 16 at Le Van Tam Park on Hai Ba Trung street of District 1./.
Opening round of national billiards and snooker tournament concludes
An awards ceremony for the first round of the one-cushion carom billiards event of the national billiards and snooker tournament was held in Vung Tau city on April 6.
The sporting occasion attracted the participation of 400 athletes from across the country. After four days of competitions, Vo Phuoc Thanh of Ho Chi Minh City and Tran Phu My of Da Nang city progressed to the final round.
Phuoc Thanh easily defeated Phu My 80-13, becoming the winner of the one-cushion carom billiards.
The two third-place prizes were given to Tran Duc Minh of Dong Nai province and Le Quoc Vinh Quang of Ho Chi Minh City.
The winners will now qualify for the final round of the national billiards and snooker tournament which is scheduled to take place in June.
MIA helicopter crash commemorated in Quang Binh
A ceremony was held in the central province of Quang Binh on April 7 to commemorate Vietnamese and US officials who died in a helicopter accident 10 years ago while on a mission to search for US servicemen missing from the war.
A ceremony was held in the central province of Quang Binh on April 7 to commemorate Vietnamese and US officials who died in a helicopter accident 10 years ago while on a mission to search for US servicemen missing from the war.
The ceremony was jointly held by the Vietnam Office for Seeking Missing Personnel (VNOSMP) and the US Joint Prisoners of War (POW), Missing in Actions (MIA) Accounting Command (JPAC).
Present at the ceremony on the Vietnamese side were Deputy Foreign Minister and appointed Ambassador to the US Nguyen Quoc Cuong, VNOSMP Management Board and leaders of Quang Binh province while the US guests included Deputy Assistant Secretary Defence for POW/MIA Robert Newberry and JPAC leaders.
On April 7, 2001, a helicopter of the Northern Service Flight Company carrying two Vietnamese officials of VNOSMP and seven Americans of JPAC was crashed in Thanh Trach commune, Bo Trach district.
All nine passengers and seven crew members were killed in the accident.
Addressing the ceremony, representatives of VNOSMP and JPAC expressed their sympathy to the bereaved, affirming the contributions of the late officials to the joint humanitarian programme conducted by the Vietnamese and US governments.
Representative of the US government thanked the Vietnamese government and people for their goodwill, humanitarian policy and efficient cooperation in helping the US settle the MIA issue.
Source: VNA/VNS/VOV/VIR/SGT/Nhan Dan/Hanoitimes
VIETNAM NEWS HEADLINES APRIL 8 have 9421 words, post on vietnamnet.vn at April 8, 2021. This is cached page on Travel News. If you want remove this page, please contact us.