A rise in coronavirus cases means local rates "are now as high as they were in January during the winter peak", a city council said.
Figures for Peterborough in Cambridgeshire reveal the city has the fourth highest number of Covid cases in England.
Up until 13 August there were 519 cases per 100,000 people; an 18% increase on the same time the previous week.
BBC News spoke to people in Peterborough to ask whether they are concerned about rising figures.
It is the first time since lockdown that three-year-old Fergus' mum Jessica Fenner has come to visit Little Miracles; a play and rehabilitation centre for families whose children have additional needs or life-limiting conditions.
Mrs Fenner says despite the recent relaxations, she and her family are remaining vigilant about Covid.
"If me or his dad caught Covid and passed it onto Fergus, we'd never forgive ourselves," she says.
"We've nearly lost him a few times in his life. We just can't take any risks."
She says for her family there is no chance of getting back to normal with rates so high.
Sam Najim and her son Alex have been shielding for much of the past 18 months, as Alex was born with a chromosome abnormality which makes him vulnerable.
Ms Najim says she is nervous about rising Covid rates in Peterborough.
"It's really scary. I keep hearing about people who were double-jabbed and getting Covid, so my anxiety in trying to protect my son is sky-high," she says.
"Not only is it about trying to look after him and deal with his medical needs, but finding out about the people around him who might have Covid."
At the East of England Showground vaccination centre in Peterborough, about 100 people an hour were getting their jabs on Wednesday.
Teacher Danielle Allen was keen to receive her second dose of the Moderna vaccine.
"I think it is obviously quite a worry that the rates are sort of quite high, especially in our area," she says.
"So I think that it's important if people are happy to and have access to (vaccines) then it's really important to get them."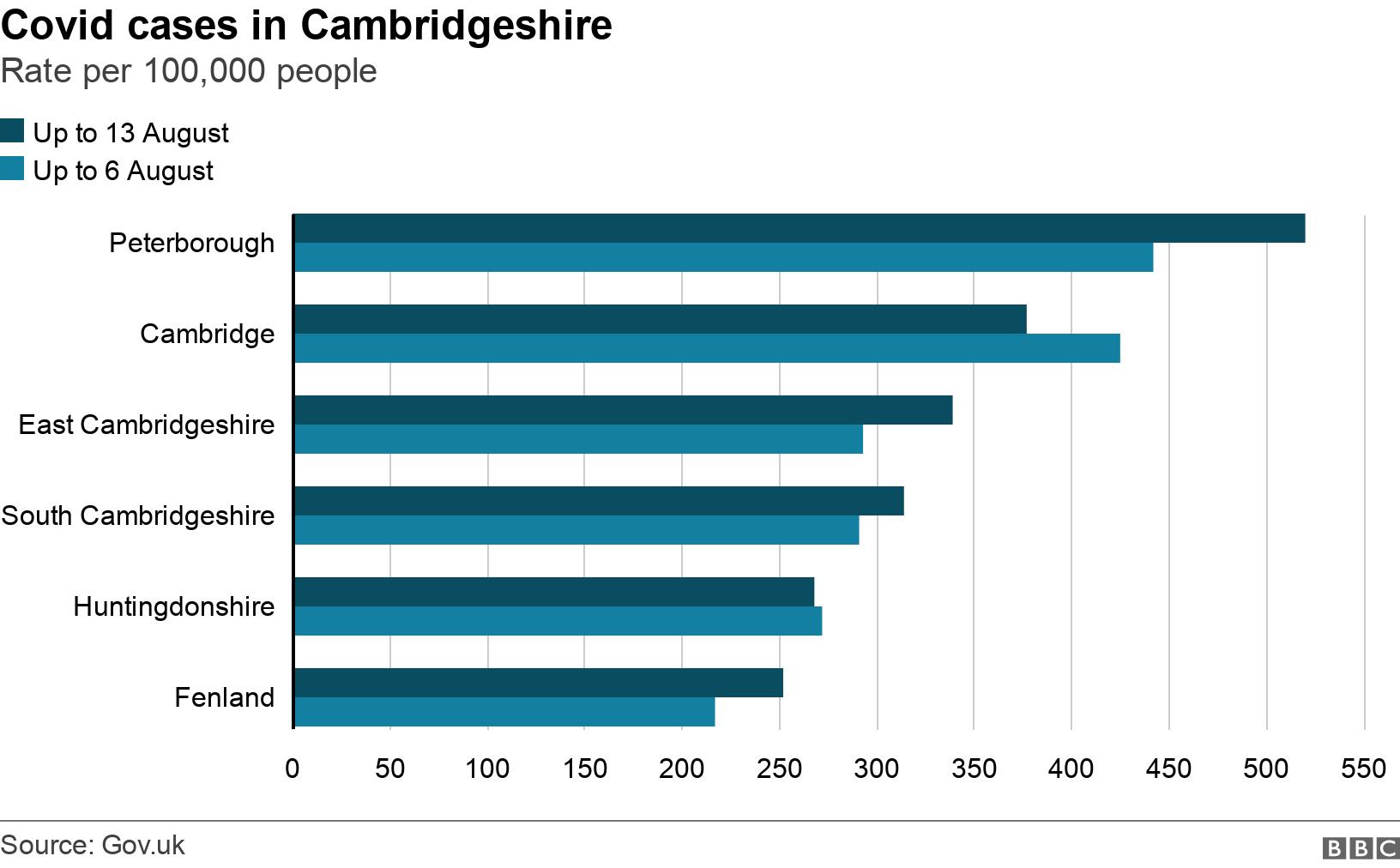 Peterborough is not alone with low vaccination rates, according to Fiona Head, medical director of Cambridgeshire and Peterborough Clinical Commissioning Group.
"All our cities across the whole of the country are tending to have lower vaccine uptake, cities in Cambridgeshire and Peterborough are no different," she says.
"There's a younger population so we started later.
"We also know that in places like Peterborough we've got people from many different backgrounds, which is actually a real strength of the city, but it makes it more challenging at times to explain to people the benefits of vaccination."
Vaccination and testing are being seen as the key to try and lower rates in Peterborough.
Jyoti Atri, director of Public Health for Peterborough City Council and Cambridgeshire County Council, says: "It remains crucial to get vaccinated.
"While the risk of getting seriously ill is lower among the under 30s, it is becoming increasingly clear that individuals who are unvaccinated and catch the virus are more likely to pass it on to others, including those who are more vulnerable."
Peterborough City Council says the number of people in the area who have had one dose of a Covid vaccine is 69%, with 57% having had both doses.
Latest NHS data revealed 37 Covid patients were currently in North West Anglia NHS Foundation Trust (NWAFT) hospitals, with six on ventilators.
This compares with 25 people and two on ventilators in the week to 5 August.
In a statement Caroline Walker, chief executive of NWAFT, said since March 2020 more than 700 of its patients had died with Covid.
Of these, 228 deaths were at Hinchingbrooke Hospital and 479 at Peterborough City Hospital.
"All patients were aged 30 to 105-years-old and the majority of those had pre-existing health conditions," she said.
The number of daily deaths overall across England remains low.
In May, Peterborough and Fenland districts in Cambridgeshire, took part in a £2.6m government pilot to tackle Covid-19 transmission among lower-paid workers where rates were high.
It aimed to provide extra support to those needing to self-isolate, who otherwise might not.
The BBC is not responsible for the content of external sites.
Covid: Peterborough residents speak of concern at rising figures have 1055 words, post on www.bbc.co.uk at August 18, 2021. This is cached page on Travel News. If you want remove this page, please contact us.