After successfully entering the fish sauce market, billionaire Nguyen Dang Quang has invested in two segments with high potential: the US$10 billion pork and animal feed market.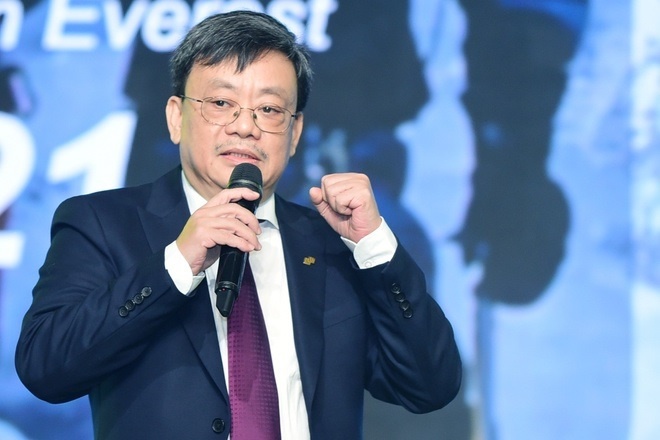 Billionaire Nguyen Dang Quang, Chairman of Masan Group.
Shareholders of Masan MEATLife (MML) of billionaire Nguyen Dang Quang have approved a business restructuring plan. Accordingly, Masan MEATLife will issue three-year non-convertible bonds with a total value of VND 7,284 billion. The annual interest rate is 2%, with one-time payment, the price of 10,000 VND/share.
Nearly 79% of the shares of MML are held by Masan Group, over 9% by Masan Vision Co., Ltd. and nearly 7.1% by VN Consumer Meat II. They are the main buyers in the upcoming issuance of MML shares.
Masan MEATLife, formerly known as Masan Nutri Science (MNS), was renamed and listed on the stock market in 2019. MML was built with the vision of exploring the US$10 billion pork market in Vietnam.
In 2015, Masan Group merged its two feed businesses, Anco and Proconco, with Masan Meatlife, and three years later the firm started selling MeatDeli meat. In the first quarter of 2021, Masan Meatlife's after-tax profit rose by more than 10 times to over VND 146 billion.
According to its plan, after separating the meat segment, Masan Meatlife will aim for 10% of the market share by 2025, corresponding to a revenue of VND 35,000-45,000 billion. The profitability of the meat segment is expected to be very high, doubling the current rate of 17% of Masan Group. Masan Meatlife currently has two processing plants in Ha Nam and Long An provinces, with a capacity of 1.4 million heads per year, equivalent to 140,000 tons a year.
According to Bloomberg, Masan Group wants to raise $ 1 billion to invest in the animal feed segment, which includes selling shares to its strategic partners.
Recently, the price for Masan Meatlife stocks increased strongly, from VND60,000/share in early July to nearly VND80,000 per share at present.
Masan Group in recent years has been actively mobilizing international capital. In mid-August 2021, Masan raised another $200 million from South Korea's PE fund.
In April 2021, Masan sold a 16.3% stake in VinCommerce to SK Group for $410 million. SK Group currently owns a 29.2% stake in VinCommerce, the operator of Vinmart and Vinmart+ supermarket chains.
In June 2021, Masan raised $400 million from Alibaba and Baring Private Equity Asia for The CrownX, at a valuation of nearly $7 billion. After this issuance, Masan's ownership rate in The CrownX is 80.2%.
In the second quarter of 2021, Masan Group recorded net revenue of more than VND 21.2 trillion, up 19% over the same period last year. Profit also reached over VND1,000 billion.
V. Ha
Vietnamese billionaire enters $10 billion pork, animal feed market have 630 words, post on vietnamnet.vn at September 14, 2021. This is cached page on Travel News. If you want remove this page, please contact us.