(CTN NEWS) –  KUALA LUMPUR, Malaysia – Anwar Ibrahim, a longtime opposition leader in Malaysia, was elected prime minister by the country's king on Thursday.
At 5 p.m. (0900 GMT), Anwar Ibrahim will be sworn in as prime minister, ending an unprecedented five-day post-election crisis.
Anwar Ibrahim's selection marks the culmination of a three-decade political career that saw him go from Mahathir Mohamad's pupil to protest leader, a prisoner convicted of sodomy, opposition leader, and now prime minister.
Following the resolution of the political impasse, markets soared. Stocks (.KLSE) climbed 3%, while the ringgit currency had its best day in two weeks.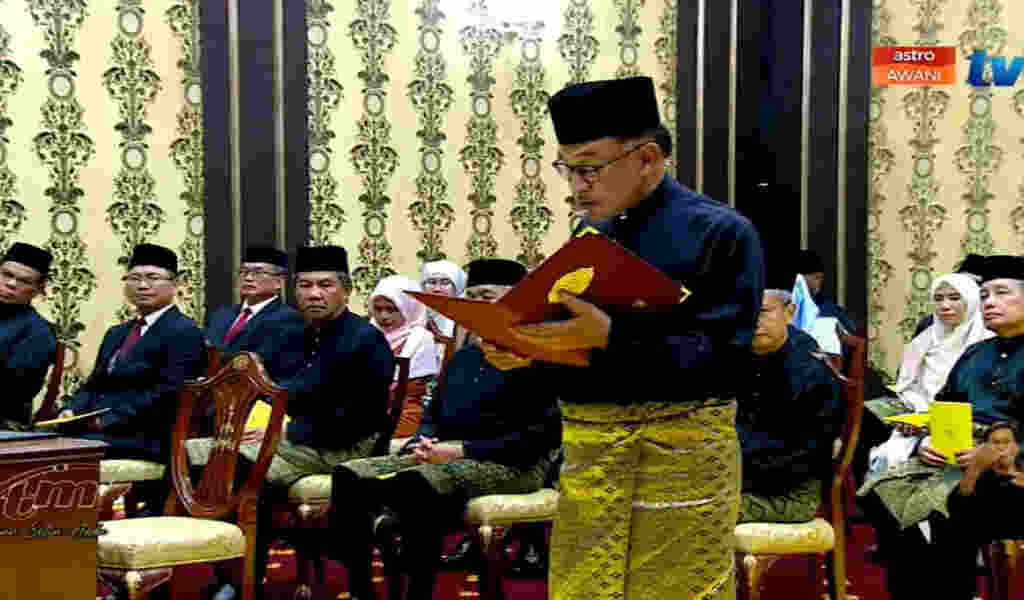 Datuk Seri Anwar Ibrahim was sworn in as Malaysia's 10th prime minister on Thursday. PHOTO: SCREENGRAB FROM ASTRO AWANI/YOUTUBE
A historic hung parliament resulted from the general election on Saturday, with neither of the two main alliances—one led by Anwar Ibrahim.
And the other by former premier Muhyiddin Yassin—winning enough members in the house to form a government right away.
Anwar, 75, has repeatedly come close to winning the leadership over the years.
He served as deputy prime minister in the 1990s and as the formal prime minister-in-waiting in 2018.
He was imprisoned for nearly a decade in the interim for sodomy and corruption, which he claims were politically motivated accusations intended to stop his career.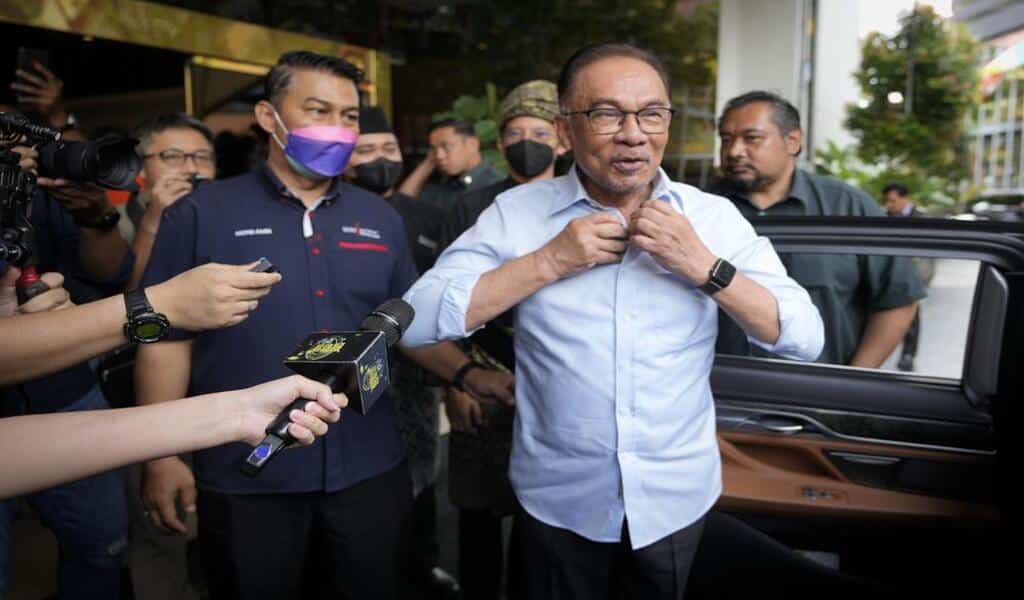 Malaysian opposition leader Anwar Ibrahim, foreground, arrives at a hotel to meet the leaders of United Malays National Organization in Kuala Lumpur, Malaysia, Monday, Nov. 21, 2022. Malaysia's king on Thursday, Nov. 24, 2022, named Anwar as the country's prime minister, ending days of uncertainties after divisive general elections produced a hung Parliament. (AP Photo/Vincent Thian)
Political unrest in the Southeast Asian nation, which has had three prime ministers in as many years, threatens to be prolonged by the election's uncertainties.
And it also runs the risk of postponing the adoption of necessary policy measures to promote economic recovery.
While Muhyiddin's coalition represents more orthodox, Malay-ethnic Muslim ideas, Anwar leads a multi-ethnic coalition of parties with progressive leanings.
His supporters expressed optimism that Anwar's administration would prevent a resurgence of the long-standing hostility between the Chinese and Indian minorities and the ethnically Malay Muslim majority.
Anwar Ibrahim represents moderation, according to a communications manager in Kuala Lumpur who asked to be known only by her last name Tang.
"We cannot have a racial and religious division in our country because that will take us back another 10 years."
Before the election, Anwar stated in an interview with Reuters that if elected premier, he would work "to prioritize governance and anti-corruption, and rid this country of racism and religious prejudice."
In the elections held on Saturday, his Pakatan Harapan alliance gained 82 seats, while Muhyiddin's Perikatan Nasional group secured 73. A simple majority of 112 were required to create a government.
Only 30 seats were gained by the long-ruling Barisan group, which was the worst electoral result for a coalition that had controlled politics since independence in 1957.
Barisan declared on Thursday that it would not back a Muhyiddin-led administration, although it did not mention Anwar.
SECURITY STEP-UP BY THE POLICE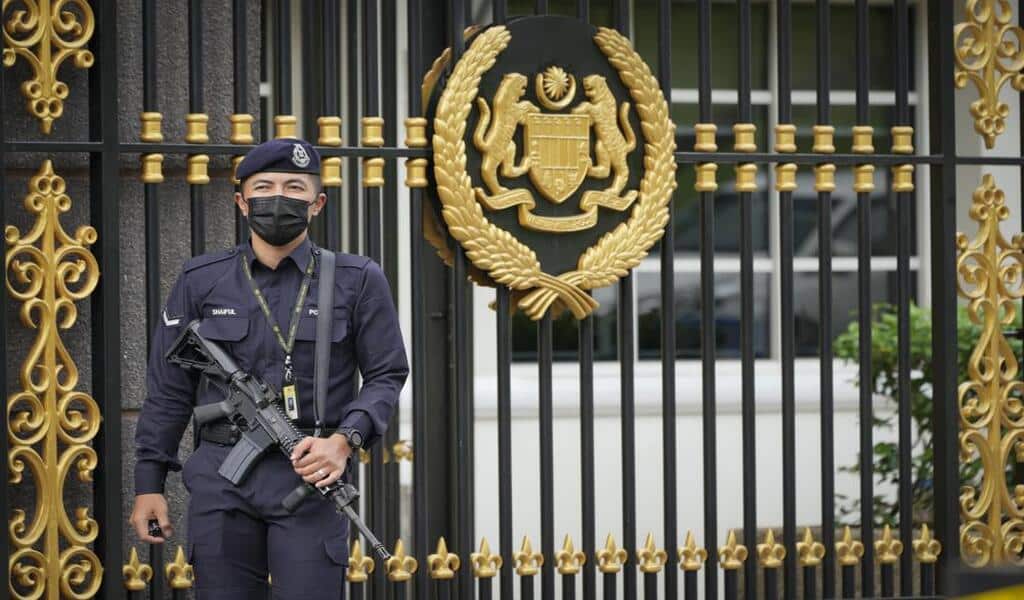 Armed National palace police stands guard at the National Palace in Kuala Lumpur, Malaysia, Wednesday, Nov. 23, 2022. Malaysia's king has failed to reach a decision on whom to pick as prime minister after meeting the leaders of two rival blocs, and summoned lawmakers from a political bloc that has held out its support. (AP Photo/Vincent Thian)
The Islamist party PAS is a part of Muhyiddin's alliance, and its election success alarmed many members of the ethnic Chinese and Indian communities, most of whom practise different religions.
The short video-sharing app TikTok said it was on high alert for anything violating its criteria after authorities warned of increased ethnic conflict on social media following the weekend elections.
Since the election, social media users have reported several TikTok posts that referred to a riot in the capital city of Kuala Lumpur on May 13, 1969, nearly 200 people died.
Only days after opposition parties backed by ethnic Chinese voters gained momentum.
To maintain public safety and tranquilly, police warned social media users not to post anything "provocative" and announced that they would be setting up 24-hour checkpoints on all major roadways around the nation.
King Al-Sultan Abdullah Sultan Ahmad Shah chose prime minister after Anwar Ibrahim and Muhyiddin missed the deadline he set for forming a government coalition on Tuesday afternoon.
Despite having a primarily ceremonial function, the constitutional monarch has the power to name a premier who he thinks will have the support of the majority of lawmakers.
In Malaysia's distinctive constitutional monarchy, nine royal families alternately elect kings to rule for five years.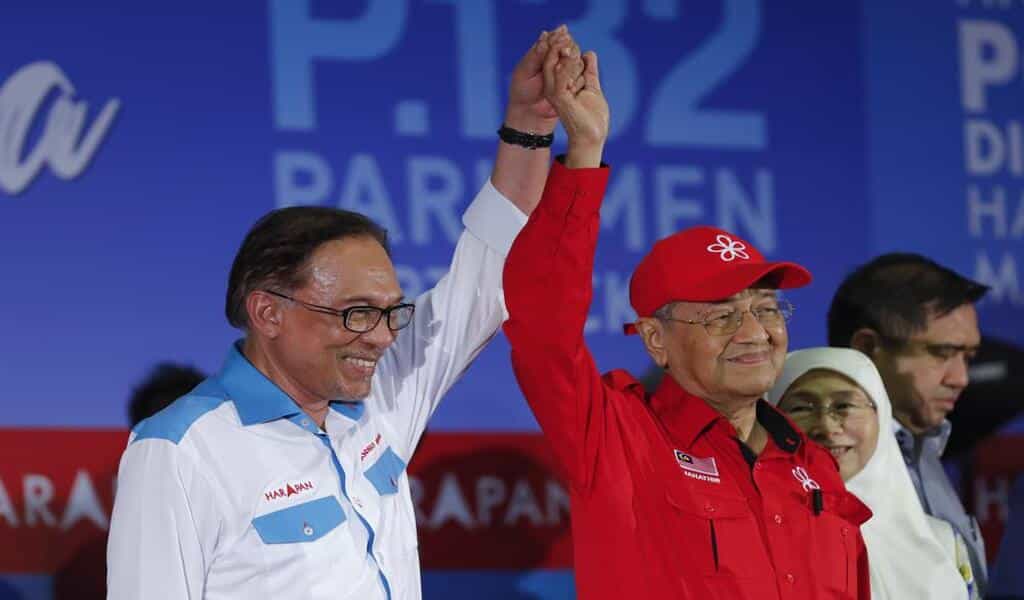 Then Prime Minister Mahathir Mohamad raises the hand of reform icon Anwar Ibrahim during a rally in Port Dickson, Malaysia on Oct. 8, 2018. Malaysia's king on Thursday, Nov. 24, 2022, named Anwar as the country's prime minister, ending days of uncertainties after divisive general elections produced a hung Parliament. (AP Photo/Vincent Thian, File)
As the economy recovers from the coronavirus pandemic, Anwar Ibrahim will need to manage rising inflation and sluggish development while easing ethnic tensions.
The budget for the upcoming year, introduced before the election was called but has not yet been approved, will be the most pressing problem.
To maintain the backing of the majority in parliament, Anwar Ibrahim will also need to strike agreements with legislators from different blocs.
According to James Chai, visiting fellow at the ISEAS-Yusof Ishak Institute in Singapore, "Anwar is chosen at a pivotal juncture in Malaysian history, where politics is most split, recuperating from a depressed economy, and a bitter COVID memory."
"It is appropriate that Anwar emerged during a contentious time. He was always considered as the one who could unify all warring factions."
RELATED CTN NEWS:
Russian Rocket Strikes A Small Town Again, Killing A Newborn
Anwar Ibrahim Appointed As Malaysia's Prime Minister After Decades have 1217 words, post on www.chiangraitimes.com at November 24, 2022. This is cached page on Travel News. If you want remove this page, please contact us.